BrigGen (ret.) František Mičánek
The DEAN
Last updated: 10 Oct. 2017 10:56
Ladies and gentlemen,
Welcome to the world of academic operations and research. This world has been built step by step by many previous Deans, Heads of Academic Divisions, Faculty Advisors and researchers who, for more than 60 years, have carefully and gradually created the current NDC curriculum.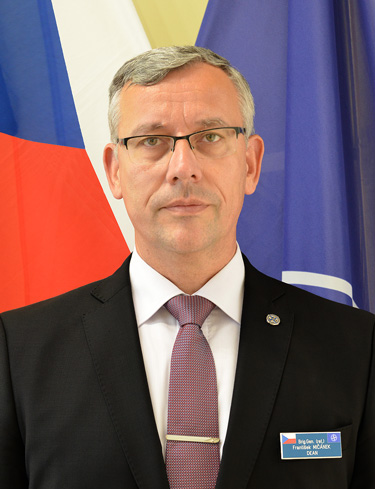 Our College is a truly exceptional educational institution, delivering high-level lifelong education opportunities for both military and civilian personnel to be prepared for NATO and other international organizations appointments. What makes the NDC unique, compared to national defence universities and colleges, is a commitment to the original 1951 vision of General Eisenhower, combined with a number of modern features:
Continuous re-identification of up-to-date and relevant topics from all domains of the field of international security studies – political, military, technological, legal, social, economy and environmental. Many of these reflect recommendations given by MC, IMS and ACT. They are regularly reviewed, thanks to a very complex system of evaluation and feedback from Course Members, NDC Anciens and the NDC Academic Advisory Board;


Wide implementation of modern and highly efficient methods and modes of learning enabling Course Members to share personal experience, discuss their reflective observation from lectures delivered by world class scholars, reach abstract conceptualization, learn how to build consensus and validate acquired theoretical knowledge through active experimentation and exercises.


High percentage of active engagement of Course Members. They work in committees in a purely international, socially rich environment, taken out of their national professional and cultural comfort zones and repeatedly intellectually challenged by the NDC academic staff and keynote speakers. The quality to which greatest importance is attached is not military rank or seniority, but level of holistic strategic thinking, dedication to teamwork, depth and strength of arguments used in discussion, as well as informal leadership, and last but not least cultural and ethical awareness;


Significant investment of financial and human resources to ensure that teaching (and, above all, learning) is optimized by cutting edge technology. Our NDC academic portal not only provides all necessary information and data for staff, Anciens and Course Members, but also supports ADL and sharing of research publications, as well as other electronic sources prepared either by our Research Division or by our superb NDC Knowledge and Learning Centre;


Permanent identification of new avenues for cooperation with other academic institutions, enhancing the pooling and sharing of resources dedicated to lifelong education.
The conditions and characteristics of the international security arena change and evolve continuously. So do we. Through its courses and related activities, the NDC is – and will continue to be – an excellent platform for promoting greater dialogue across cultures, religions and ideologies. We will continue to uphold and develop the academic heritage of our predecessors, in order to build and further reinforce trust among nations, helping overcome mental barriers and ensuring that any misunderstandings or misperceptions based on insufficient cultural awareness can be placed in an appropriate perspective. In other words, our academic programmes will seek to capitalize on the transformative power of education.
But be aware these gigantic tasks cannot be completed by faculty of the NDC alone. We need the continuing support of all NATO member states and partner nations; we need to be able to count on your trust, and your full understanding of the sheer complexity of our challenge.
Let me express my own personal belief, that we may have common understanding. All of this work is done in conviction that education is the only force capable to shape our destiny. Science and historically-obtained knowledge recognize no boundaries, and must be shared for the sake of peaceful future coexistence of all humankind.
Ladies and gentlemen, thank you – and see you in Rome!
The Dean
~ UNITATEM ALENTES ~ FOR UNITY WE STRIVE ~