Stephen J. Mariano, Ph.D.
The DEAN
Last updated: 06 May. 2020 18:01
"Dear NDC Anciens, Alumni, Friends of the College, and future Course Members!

The last Dean's letter provided a summary of COVID19-related events but since then, circumstances have changed. Consequently, we're making big decisions and wanted to share them with everyone.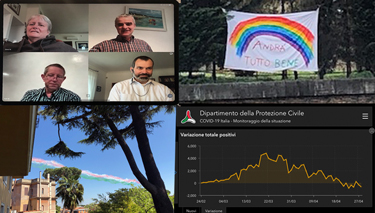 One of the most novel experiences in the last 11 weeks (!) of quarantine and on-line instruction was the "graduation" of the very unique NATO Regional Cooperation Course (NRCC) "Committee 9." In the last posting, I mentioned the NRCC's cancellation but that we offered an opportunity for course members to remain engaged with the Senior Course curriculum until the Easter Break. Twelve NRCC participants remained, formed a ninth committee (there are eight committees in Senior Course 136), and followed the curriculum until April 9th. We decided to recognize their commitment and resilience and conduct our first ever on-line graduation ceremony with former Italian Foreign Minister and Magistrate Franco Frattini, Justice and Chamber President to the Italian Supreme Administrative Court as guest-speaker. The event followed most of the traditions of a typical NDC graduation ceremony (except the music! [if you miss hearing it though, click here]!) and was a surprising achievement, showing us what could be done under these difficult circumstances.
Senior Course 136 is also showing us what can be done in this COVID19 environment because they are progressing with remarkable success. The faculty, staff, and course members have embraced this novel situation and are finding new ways to work, teach, and learn – who knew that a one-hour panel with four speakers could generate more than 90 questions in a chat box!? Our lecturers have also impressed us with their adaptability by working across time zones, logging into our Academic Portal, and patiently lecturing into a sterile computer screen instead of the warm environs of the Maynard-Thorn auditorium at the College.
If we're completely honest, the course is going better than expected and we're able to achieve most of the learning objectives to a marginally acceptable standard. We realized that much of Senior Course's daily routine - the standard lecture, Q&A session, and Committee discussion - can be conducted on-line, even if sub-optimally. But we've also learned difficult lessons along the way. For example, the majority of faculty, staff and course members are experiencing one of two circumstances – the loneliness of self-isolation away from loved ones or the pressure of close-quarters with families sharing overloaded WiFi connections. We also realized that staring at the screen of a computer, tablet, or phone for six-hours-a day, five-days-a-week, is more physically and mentally stressful than we anticipated. These circumstances have allowed about one-third of the course members to relocate to their home nation to continue the course and await safe conditions for a return to Rome. Unfortunately, rapidly pushing to on-line instruction has had a negative impact on some of the most important aspects of the NATO Defense College learning model. We have lost the ability to build cohesion across the committees and are unsure about the success of the NATO Decision-Making Exercise in the virtual environment. We are inspired, however, by NATO's Foreign and Defense Ministers, who have undertaken the real thing by conducting on-line North Atlantic Council meetings.
A more painful example of the negative consequences of COVID19 has been cancellation of the much-beloved field studies. The stubbornness of the virus and the pandemic's spread has created too much uncertainty to risk course members' health for the sake of travel. Consequently, all three field studies have been or will be conducted remotely, relying on lectures from national capitols or NATO's organizational partners. We're grateful for the support of government ministries in Belgium, Denmark, France, Germany, Great Britain, Italy, Latvia, Norway, Serbia, and the United States, as well as our colleagues at the United Nations Headquarters in New York, European Union Commission and European Union Military Staff. And the NATO Headquarters and its agencies have provided its usual outstanding support. Everyone has shown flexibility in delivering informative lectures that allow course members to compare national and institutional security policies and helped us achieve many of the senior course's academic objectives.
Another negative consequence of the COVID19 restrictions has been cancellation of all visits to the College and several planned engagements activities. In 2019 we had over 600 visitors to the College – more visitors than Course Members – and we're disappointed that we've been unable to host many of our valued partners. Similarly, we have been unable to execute major events like the 20th Anniversary of NATO International Week in Kiev and the 49th Annual Conference of Commandants in Riga, Latvia, though we are looking at alternatives for both.
The Research Division, however, has been a positive model of adaptability. Several of our researchers, fellows, and visiting scholars have provided excellent lectures during the on-line transition period and have continued apace with their research. Several affiliates have continued their research and we have published their policy briefs. The Research Division is also holding an on-line session for young scholars studying nuclear deterrence and organizing publications on the effects of COVID19 on the Alliance.
What does all this mean for the future?
In the near term, it means that we are on track to graduate Senior Course 136 on 17 July, say farewell to Lieutenant General Chris Whitecross and welcome Lieutenant General Olivier Rittimann as NDC's 29th Commandant. But it also means that SC 136 will be unique, and we'd like to keep it that way. The course members are having an exceptional experience and will have achieved NATO's agreed objectives for the course, …but barely. The loss of field studies, prohibitions on team-building activities, and the inability to experience Rome - will forever be a footnote in their biographies. In the long term, the College is undertaking efforts to deliver the education that NATO nations want their senior officers and civilians to have before taking up NATO posts or NATO-related national assignments. We've sent calling messages announcing Senior Course 137 and NRCC 24 and have every expectation to conduct those courses. The College will remain open for business though it may not be business as usual. We will not stop educating NATO's future senior leaders on the strategic importance of NATO and the importance of consensus-based decision-making. And we plan to do that together! Thanks for all your support. Stay healthy and we hope to see you soon – either here in Rome or in your nation.
Grazie mille, merci beaucoup."