The Library and Knowledge Centre
The Library and Knowledge Centre (LKC) provides support to the academic and research branches of the College. The library is named in honour of Manlio Brosio, NATO Secretary General from 1964 to 1971.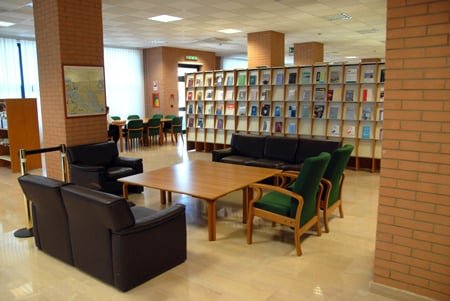 Collections
The LKC holds publications in English and in French in the fields of International Relations, Strategy, Security and Defence, Military Affairs, and Current World Affairs. It hosts over 11,000 books and around 100 journals.
All the library collections can be searched through the Library Discovery System.
The LKC subscribes to the databases ProQuest Political Science and Proquest Military Collections and has access to over 90 online journals through the EBSCO platform.  It also has access to online platforms and journals such as IISS, Stratfor, and The Economist.
Online collections are accessible only within the College.  LKC services are embedded in the Academic Portal, which can be accessed by both NDC Course Members and Staff.
External visitors are invited to contact the Library if they have specific requests for the Library collections.
Policy for external visitors
To visit the Library, external visitors are kindly invited to fill in the request form and return it to the Library by e-mail to library@ndc.nato.int. Authorization is required by the security authorities, and it can take from 7 to 30 days to be granted. Visitors are kindly asked to indicate the desired time of their visit.
Authorization is granted for a period of two months, after which the visitor must renew his/her request.
Authorized visitors must always contact the Library prior to each visit.
External visitors with institutional links to NATO or to the NATO Defense College are requested to contact the Library directly by e-mail or by telephone in order to make further practical arrangements.
The Library is not open to external visitors during weekends and official holidays.
Visiting hours
The LKC Staff is available from Monday to Thursday from 8.30 to 17.30 and on Fridays from 8.30 to 15.00.
Contacts
Email: library@ndc.nato.int