SC 129 Graduation Ceremony
03 Feb. 2017
|
Last updated: 04 Feb. 2017 13:17
On 3 February 2017, the NATO Defense College celebrated the graduation of Senior Course 129. This event was attended not only by ambassadors and dignitaries, but also by Course Members' families as well as the entire NDC Faculty and staff.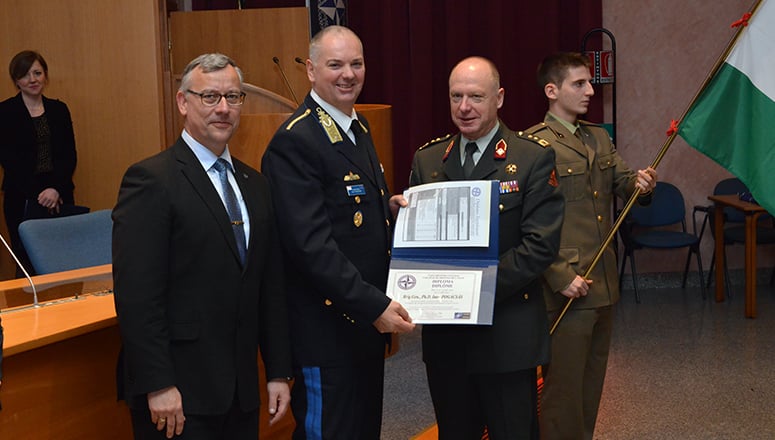 The graduation was presided over by NDC Dean and Acting Commandant BrigGen (ret.) František Mičánek. Director General NATO International Military Staff, Lieutenant General Jan Broeks, was the guest of honour. During his graduation speech, he underlined the NDC's fundamental contribution to the education of future leaders: 'Continued institutional adaptation efforts are necessary to strengthen a truly whole-of-NATO approach to keeping the Alliance fit for purpose, and educated people are needed to see it through.'
Course President BrigGen Dr Imre Pogácsás and Vice-President Mr Jens Rink also addressed their fellow Course Members, after which two special awards were made: the Commandant's Prize (best Individual Paper) to Cdr Enrico Pieroni presented by BrigGen (ret.) František Mičánek, and the Eisenhower Prize (best Committee Study Project) to Committee 4 presented by LtGen Broeks, from whom all Course Members then received their final diploma.