SC 130 Transatlantic Link Field Study - Brussels (II): European Union Military Staff
03 May. 2017
|
Last updated: 03 May. 2017 17:36
After the visit to NATO HQ, the SC transferred to EU headquarters in the centre of Brussels, in the Charlemagne building where they were welcomed by the Deputy Director General of the EUMS, RAdm Waldemar Gluszko. He underlined the daily exchanges between the EUMS and NATO, especially with NATO HQ but also with the strategic commands.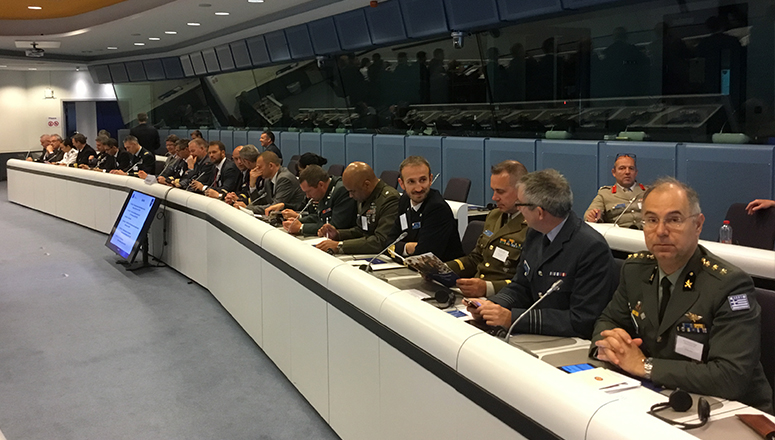 The first speaker, Col Paolo Bressan from the External Relations branch, spoke about the military role of the EU, and explained the different practices in EU Crisis Management Institutions and their relationship.
He cited historical facts to explain the development of strategies from 2003 to 2016, and also outlined what the EU means by comprehensive approach, and how the capability development process works in the EU. In looking at the similarities and differences between NATO and the EU, Course Members were able to see the complementarity between the two organizations.
Later, Mr Andras Kos took the floor in order to explain the objective behind the Joint Declaration signed in July 2016 between NATO and the EU. Although NATO-EU relations existed before the signature of this declaration, it was a crucial step forward.
The declaration contains 42 agreed concrete topics for pragmatic cooperation which should be considered as actions in a process, with a periodic review of progress. To facilitate implementation, a three-level informal "staff to staff" mechanism has been created. Concrete results already exist, for example in the domain of capacity building, and more is expected very soon.
From the Operations Directorate, LtCol Antonio Mateo presented the different military missions of the EU. He identified the challenges and the way ahead for the most important missions, for example the European Force ALTHEA, the different missions in the Horn of Africa (the naval force ATALANTA, the training mission in Somalia), the missions in the Sahel (the training mission in Mali for example), in Central Africa, and in the Mediterranean (operation SOPHIA). All these operations are an integral part of regional EU strategies and are developed in a "comprehensive" way with permanent civil-military interaction. After him Mr Bert Vermessen, Chief of Staff and Deputy Commander of Civilian Planning and Conduct Capability (CPCC - the permanent command and control structure of the EU), took the floor and presented the civilian missions, for example EULEX in Kosovo, the monitoring mission in Georgia and the most recent mission (advisory mission) in Ukraine.
From these well prepared briefs covering the most important parts of the External Action Service of the EU, Course Members were left with a much better understanding of the complexities and potential of inter-organizational cooperation, as well as the complementarity existing between NATO and the EU.