SC 130 Transatlantic Link Field Study: New York
12 May. 2017
|
Last updated: 12 May. 2017 09:45
Senior Course 130's second Field Study ended with an excellent visit to the United Nations in New York City, where Course Members were briefed, visited the UN Headquarters and were given a tour of the 9/11 memorial.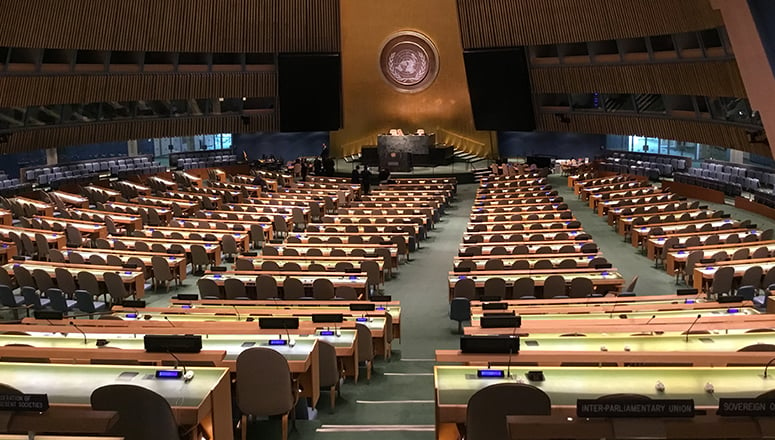 The briefings were held at the UN. First, Mr J. Christofides, Director of Policy, Evaluation and Training Division at the UN DPKO (United Nations Department of Peace Keeping Operations), gave an overview of current operations and spoke about the challenges operations are facing now. He dedicated most of his time to interacting with Course Members and answering questions. The Course Members were mostly interested in the cooperation between the UN and other international organizations.
After a tour of the UN building, during which Course Members visited the hall where all UN members gather for the General Assembly, Major General Adrian Foster, Deputy Military Advisor, spoke of the challenging context within which PKO occurs today, with asymmetric threats made all the more relevant by cross-border flows of ideas, weapons, funds, fighters and the illicit enrichment trade that exacerbate intra-state conflicts. He stressed the significant changes occurring within the UN HQ in New York to improve strategic, operational and tactical level PKO activity. With Navy Captain Hervé Aufret, he then answered questions from Course Members – for example, on the challenges and possibilities of improving NATO-UN relations or on the role of non-state actors.
In summary, SC 130 received superb briefings from senior UN officials who had prepared and who delivered exactly the type of knowledge-enhancing presentations foreseen in the College objectives. Course Members are now much more aware of how the UN works, and the visit was very much appreciated.
The NATO Defense College organizes Field Studies so that Course Members can gain first-hand knowledge of security policies, structures, workings and functions of national defence establishments, governments and international organizations by meeting national, regional, and global decision-makers in their respective capitals and headquarters.