NDC Generals, Flag Officers and Ambassadors' Course (GFOAC) 2017-1
12 May. 2017
|
Last updated: 12 May. 2017 14:54
From 8 to 12 May 2017, the NATO Defense College held the Generals, Flag Officers and Ambassadors' Course (GFOAC 2017-1), bringing together 37 high-level civilian and military participants from NATO countries for this year's course entitled "NATO: Confronting an Uncertain Global Security Environment".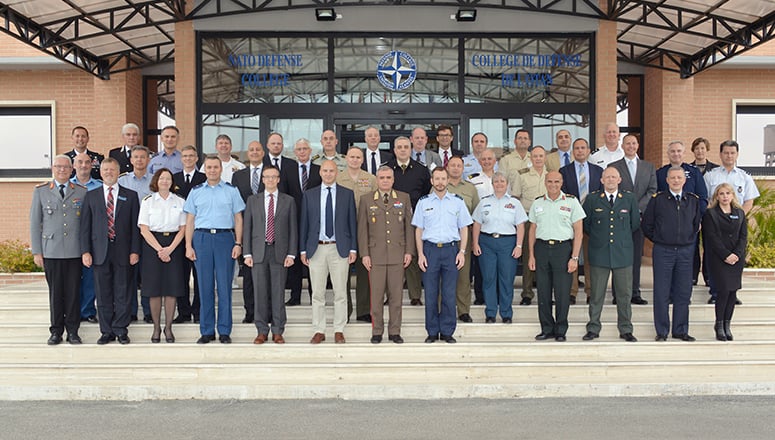 On Monday morning, the Head of the NDC Academic Planning and Policy Division, BrigGen Heinz-Josef Feldmann (DEU A), gave an introduction to the Course with details provided by Col Huber (USA A). The new Commandant of the NDC, LtGen Chris Whitecross (CAN F), gave the welcoming remarks. Prof Christopher Coker (GBR) delivered the opening lecture, in which he addressed "Cultural Dialogue: the Western Encounter with the Rest". The topic of the afternoon lectures by Ambassador Robert E. Hunter (USA) and Prof Dr Rob De Wijk (NLD) was "The Transatlantic Link: the Cornerstone of the Alliance". On the following day, GFOAC Course Members heard two interesting lectures: "Russia's Threat Perception and Military Outlook" by Mr Keir Giles (GBR); and "The Future of NATO", by Mr Michael Rühle (NATO/DEU), who defined NATO as "the Transatlantic Learning Community". Each of the lectures was followed by a plenary discussion.
On Wednesday 9 May, participants were briefed on "The Security Implications of the Rise of China" by Prof Jonathan Holslag (BEL). The final lectures of the day, on "The Middle East and North Africa", were given by Prof Mustapha Benchenane (FRA).
The programme for the next day offered topical and stimulating presentations on issues that are on the top of the Alliance's agenda. The first lecture, entitled "NATO Defence Planning and Policy", was given by Mr Nicholas Williams (NATO/GBR); in the final lecture of the day, Dr Jeffrey Larsen (NDC/USA) examined "NATO and Deterrence following the Warsaw Summit".
In concluding the week's course, Dr Holger H. Mey (DEU) gave a talk on "Technological Developments: Risks and Opportunities". Before awarding Course Members their diplomas, in his final remarks, BrigGen Feldmann summarized the fundamental messages from the week's lectures and discussions, thanking participants for their contribution to the GFOAC.
This edition of the high-level course once again proved of great value and interest to participants, thanks to a wide-ranging schedule of lectures and question periods with leading experts on the topics addressed.