New Research Division Publication -
Winning Peace and Exporting Stability: Colombia as NATO's next Global Partner?
23 May. 2017
|
Last updated: 02 Oct. 2018 09:44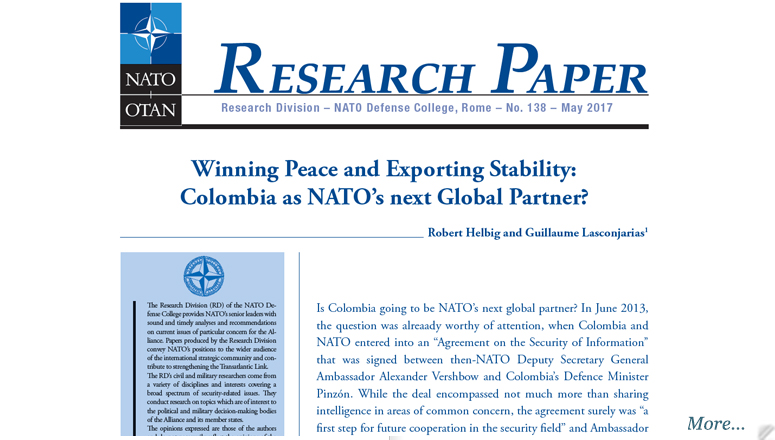 Dear Reader,

Will Colombia be NATO's next Global Partner? As the next Summit looms, some rumours have accredited the idea that Colombia might become a partner, at an important time both for itself and for NATO. With the peace accord signed with the FARC – once the oldest and strongest insurgency in the world – and negotiations under way with other rebel movements, Colombia has stepped out of decades in the shadows and become no longer a consumer but also an exporter of security, in its near abroad and around the world. NATO could benefit from Colombia's unique expertise in ending a civil war, ensuring national reconciliation and discussing transitional justice. In addition, Colombia would grant NATO a better understanding of a part of the world where geopolitical trends are moving fast, with the return of Russia and the rise of China putting stability at risk in the regions concerned.
This paper by Robert Helbig and Guillaume Lasconjarias offers a better understanding of the challenges and opportunities that such a new partnership could offer, and provides some recommendations on possible ways forward.
Regards,

Jeff
Jeffrey A. Larsen, PhD, Director Research Division