The NDC visits the European Space Research Institute (ESRIN)
22 May. 2017
|
Last updated: 22 May. 2017 18:15
On Friday 19th May, Senior Course 130 was hosted at the European Space Research Institute (ESRIN), in Frascati (near Rome).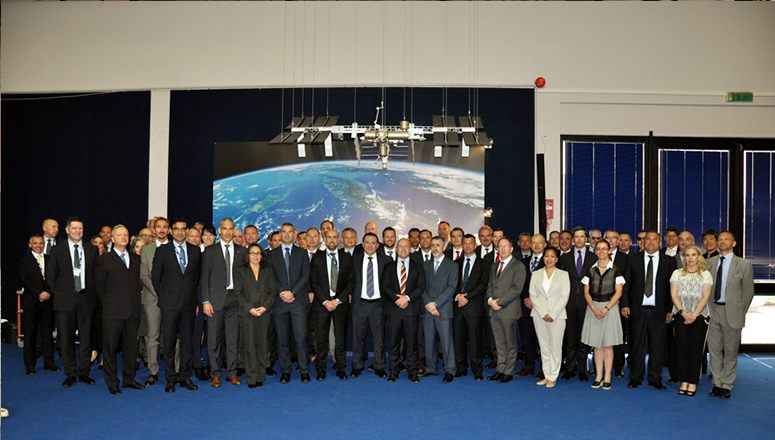 One of five European Space Agency (ESA) specialized centres, ESRIN was established in 1966 and began acquiring satellite data in the 1970s. Since 2004, it has been the headquarters for the ESA's Earth Observation activities. Earth observation data has grown in importance as more and more international and national agencies recognize its many uses. Satellites for earth observation keep a constant watch over the earth, and the data they provide helps to safeguard the world in which we live. In cooperation with other space agencies, ESRIN is also responsible for the acquisition, distribution and exploitation of data from non-ESA satellites: the resulting database of environmental data for Europe and Africa, the world's largest, is managed from ESRIN.
Led by Faculty Advisers Min. Plen. Mustafa Turker Ari (TUR D) and Col James Huber (USA A), the NDC delegation was received by Thomas Beer, Copernicus Policy Coordinator, Directorate of Earth Observation Programmes.
The first address of the day was by Dr Filippo Angelucci, Head of the ESA Information Technology Department and CIO, who gave a general overview on the ESA with a specific focus on ESRIN.
Dr Francesco Sarti, Scientific Coordinator of Education and Training Activities, gave a crucial briefing entitled "Defining requirements for the Copernicus Security Services". The programme was concluded by Dr Pascal Fegai, Director of the European Satellite Centre (EUSC), who spoke about the role of the EUSC for NATO operations, and by Laryssa Patten, Aerospace Engineer for the NATO Communications and Information Agency (NCIA), who gave a talk entitled "Space and its significance for Defence and Security".
The NDC Senior Course afterwards enjoyed a quality panel discussion and question and answer session, covering the full range of topics discussed throughout the presentations.
In conclusion, there was an innovative 3D presentation depicting daily life on the International Space Station.