New Research Division Publication: "Deterrence through Resilience - NATO, the Nations and the Challenges of Being Prepared"
31 May. 2017
|
Last updated: 02 Oct. 2018 09:44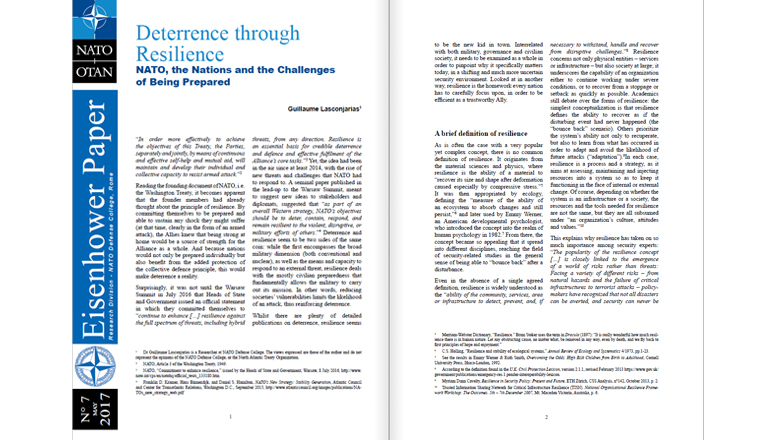 Dear Reader,

The Alliance took several major decisions at the Warsaw Summit in July 2016. Among those endorsed collectively by allies, there was one that was not significantly highlighted yet deserves additional attention. In the final communiqué, heads of state and government committed themselves to enhance resilience as the basis for credible deterrence, and as one of the arsenal of measures to effectively defeat hybrid threats. This paper by a member of our research team argues that resilience is an important concept that focuses on how quickly an individual, a community, or a national infrastructure is able to recover from a shock, adapting to future risks and threats. The challenge is to distinguish between civilian and defence institutions in a nontraditional way. When facing non-linear threats that target the whole-of-society, one's response has to be broad and comprehensive. Of course, the individual nations must and will play a key role in adapting themselves. But NATO should encourage the development of good resilience policy through shared experiences.
The Eisenhower Papers are designed to serve as a forum for discussion within the professional military education community. We hope you find this latest paper to be thought-provoking.
Regards,
Jeff
Jeffrey A. Larsen, PhD, Division Head Research