New Research Division Publication: NATO's Special Meeting in Brussels Addressing Current Priorities and Restating Core Values
26 Jun. 2017
|
Last updated: 02 Oct. 2018 09:45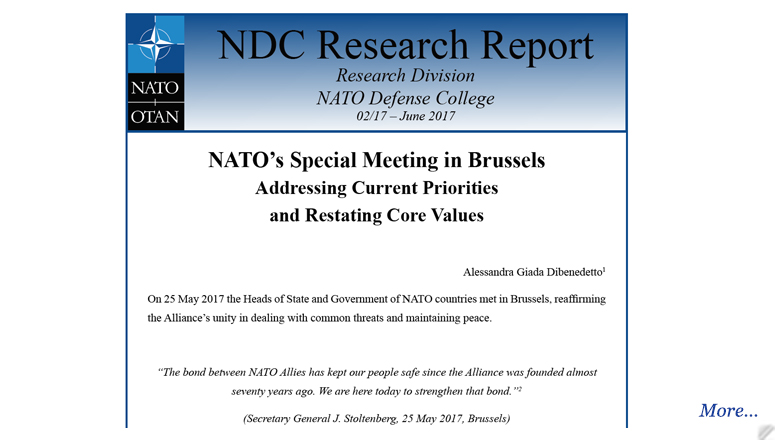 Dear Reader,

The North Atlantic Treaty Organization held a "mini-summit" meeting in Brussels on 25 May 2017, in which the Alliance's unity in dealing with common threats and maintaining peace was reaffirmed. The Summit, which convened the Heads of State and Government of NATO countries in the new headquarters of the Alliance, was the first NATO Summit for the newly elected U.S. and French Presidents, Donald Trump and Emmanuel Macron. Also the Prime Minister of Montenegro, NATO's 29th member state, Dusko Markovic, participated in the meeting.
Some analysts have called the May 2017 Summit a missed opportunity to enhance Alliance solidarity. Yet the meeting did address the current priorities on the Alliance's agenda: the fight against terrorism, defense spending within Allied countries, Russian posture, and security challenges on the eastern and southern flanks. The meeting also provided an occasion for restating NATO's core values, policies and missions, and for officially accepting the new Headquarters building from Belgium.
This research report is meant to inform the public on topics covered during the meeting, particularly since no official communique was published after the summit. Despite the fact that this Summit will not leave much of a mark in the Alliance's history, its symbolic significance deserves consideration.
We hope you find this report of value.
Regards,

Jeff
Jeffrey A. Larsen, PhD, Division Head Research