Graduation Ceremony for NDC Senior Course 130.
21 Jul. 2017
|
Last updated: 21 Jul. 2017 14:26
On 21st July, the NATO Defense College celebrated the graduation of Senior Course 130.
This semester, the NDC hosted 54 high-ranking officers and officials from 19 different NATO countries, as well as Taiwan. This major event was attended by Ambassadors and Defence Attachés.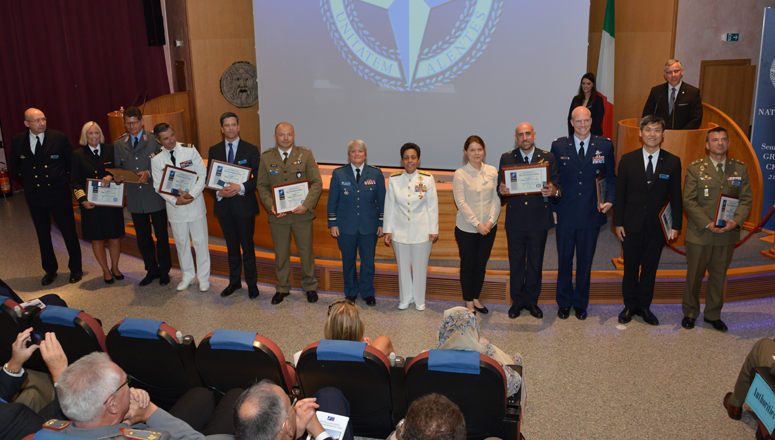 The guest of honour was the Commander of the NATO Joint Force Command, Commander U.S. Naval Forces Europe and U.S. Naval Forces Africa, Admiral Michelle Howard (US). Her participation represented a milestone in terms of inspiration for Course Members looking beyond their graduation.
NDC Commandant Lieutenant General Chris Whitecross (CAN F) welcomed a distinguished audience of Ambassadors and Military Attachés, along with Italian civilian and military authorities.
She expressed her sincere condolences to the victims and families of the recent earthquakes in Greece and Turkey.
During her speech, the Commandant congratulated Course Members on having successfully completed five months of intensive and demanding study, including a very busy Field Studies programme, during which they visited the capitals, the military HQs and the Ministries of Defence of many Alliance member states. The Commandant underlined the relevance of the insights acquired in discussing regional and world issues with authoritative speakers, from the academic and professional spheres.
In her address, Admiral Howard gave a comprehensive description of JFC HQ Naples, NATO's new Strategic Direction Southern Hub for current and future challenges.
The Senior Course is the NDC's main academic activity. It takes place twice a year and encompasses several Study Periods, as well as Field Studies to NATO and partner countries.
Currently, the SC brings together Course Members from diverse cultural, geographical and professional backgrounds. Over the years the Course has welcomed participants from many different partner countries, which has made this experience interesting and enriching for all involved.