New NDC Publication: Vox Collegii Magazine Volume XV
28 Jul. 2017
|
Last updated: 10 Oct. 2017 13:26
Vox Collegii Magazine Volume XIV, by the NATO Defense College.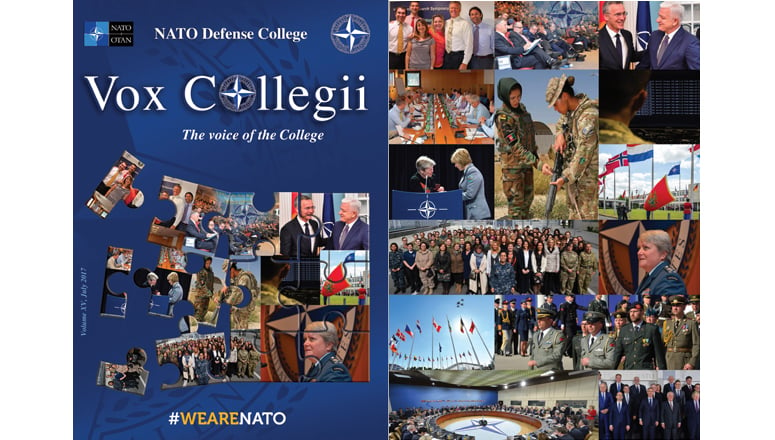 Dear Readers,
First and foremost, thank you for your continuing support of Vox Collegii and please let me introduce myself as the newly appointed (March 2017) Head of the NDC Public Affairs Office.
Being here offers me a special opportunity to continue my personal and professional commitment to the Alliance, just after completing a very rewarding 'boots on the ground' experience in Kosovo (KFOR-HQ), where I became Deputy Chief of the Public Affairs Office in August 2016.
After careful thought about how best to complement the journal's many excellent features, I have decided to include a new section entitled "World News". The focus here will be on events with a particular significance for the Alliance during the last six months.
This time, I would like to highlight two items of obvious interest to NATO as a whole – and to our many friends around the world.
The first is the accession of Montenegro to the North Atlantic Organization, as the 29th member state. This is a further step towards enhancing security, cohesiveness and trust, not only within NATO but worldwide. I am certainly voicing the thoughts of the entire NDC staff when I say how greatly I look forward to meeting the firsts Montenegrin attendees and delegations here at the College.
As a second focal point, the NATO Heads of State and Government meeting in Brussels on 25th May confirmed the Alliance's commitment to the fight against terrorism and the 'fair burden sharing' policy. This was a key event for the international community. Thanks to the reassurances delivered by many of the Alliance's Heads of State, an even stronger commitment in this direction has been affirmed. Europe and the Alliance have had to cope with an alarming spate of terrorist attacks, the aim of which is to undermine our traditions, cultural heritage and overall sense of security. The need to deal firmly with those responsible for such attacks is rightly acknowledged as a fundamental priority for the Alliance.
It is with gratitude that I acknowledge the excellence of my team at the Public Affairs Office, whose contribution to this publication and to the exceptionally demanding workload of the last few months reflects the highest level of professional and personal commitment.
I wish you all buona lettura as you take time to peruse this fifteenth issue of Vox Collegii, which I trust will give you a better understanding of the broader NATO and NDC environment.
Finally, I would like to express my deepest appreciation to the newly appointed Commandant, LtGen Chris Whitecross, together with best wishes from all of us at Vox Collegii for everything that lies ahead during her mandate here at the College.