Senior Course 131: Inauguration Day.
05 Sep. 2017
|
Last updated: 05 Sep. 2017 16:27
Resuming its activities after the summer break, the NATO Defense College welcomed the 66 Members of Senior Course 131 (SC 131) representing 31 countries, including 15 Partner nations. The Senior Course traditionally brings together participants from Alliance member states and Partner countries from the Partnership for Peace (PfP), the Mediterranean Dialogue (MD), the Istanbul Cooperation Initiative (ICI) and other Global Partners.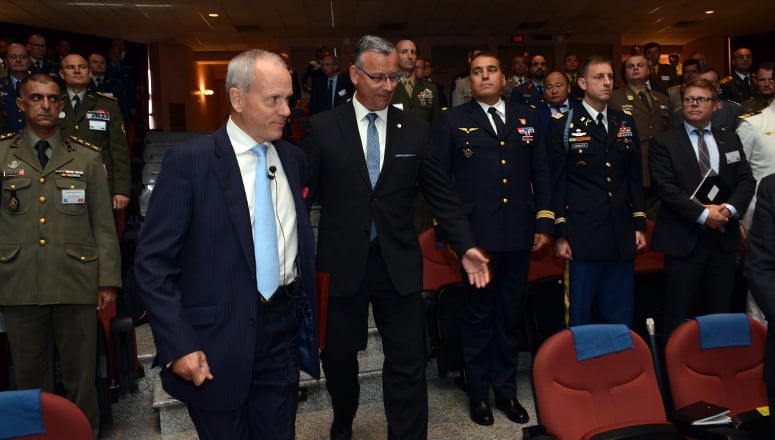 The Inauguration took place in the Maynard-Thorn Hall Auditorium at 10.00 a.m. The Dean, BrigGen. (ret) František Mičánek, gave guests and Course participants the welcome address and introduced the key speaker for the occasion, Gen. (ret) Knud Bartels. In his speech, the Dean briefly recalled the long history of the NATO Alliance, highlighting its ability to change over time and to adapt to increasingly complex international scenarios, while increasing its membership from 12 to 29 Members. The Dean also encouraged Course Members to use the College, over the next six months, as a forum in which to discuss recent international developments. In this way, it is hoped that NATO's future leaders will be better able to analyze and interpret the implications of these events.
At the end of his address, BrigGen (ret.) František Mičánek gave the floor to the key speaker for the event: Gen (ret) Knud Bartels, former Chairman of the NATO Military Committee. General Bartels is now Adjunct Professor of Military History at the Royal Danish Defence College.
The Senior Course, which lasts almost 6 months, will provide Course Members with a thorough understanding of the latest international affairs scenarios, political and military relations and the relevance of recent emerging threats.
The format for the Course includes briefings and lectures by selected speakers with international experience related to the NATO environment. Active participation from Course Members is encouraged, as it serves to share views and test the critical thinking skills of Course participants.
A number of visits to key institutions located in Alliance and Partner nations are also planned for the Course Members.