The Ambassador of Afghanistan visits the NDC
08 Sep. 2017
|
Last updated: 08 Sep. 2017 15:03
On Friday 8 September 2017, the NATO Defense College had the pleasure to welcome the Ambassador of the Islamic Republic of Afghanistan in Rome, H.E Waheed Omer. The Ambassador was accompanied on his visit by the new Defence Attaché of the Afghan Embassy, Brig. Gen. Bahram Akbari.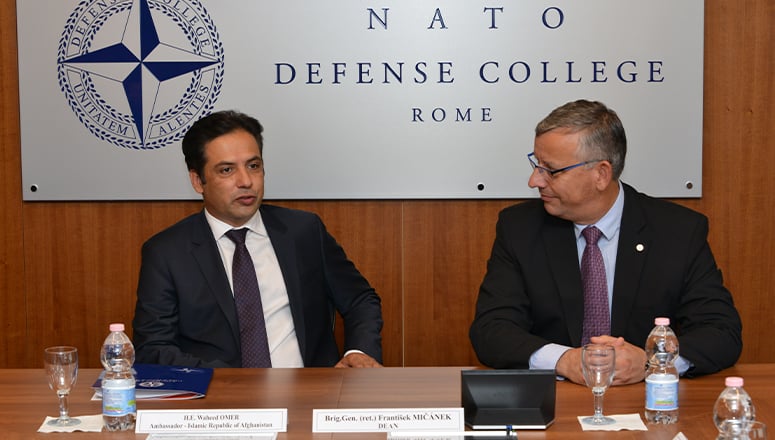 The Delegation was greeted by NDC Dean, BrigGen. (ret) František Mičánek, who accompanied the guests throughout the visit.
The Delegation was briefed by Col. Filippo Bonsignore (ITA A), Head of the Middle East Faculty, on the mission and activities of the NATO Defense College and the visit concluded with a tour of NDC premises.
The purpose of the visit was to provide H.E Ambassador Omer and Brig. Gen Akbari with an overview of the NATO Defense College and its Middle East Faculty, to share views and discuss subjects of mutual interest, including future courses, current and future cooperation.