SC 131 European Security Perspectives Field Study - Madrid , 10 Oct 2017
11 Oct. 2017
|
Last updated: 29 Nov. 2018 11:23
For the fifth stop on its European Security Perspectives Field Study, Senior Course 131 was in Spain. In Madrid, the day began with a visit to the Parliament (Congreso de los Diputados) and Course Members had the opportunity to talk with Parliamentarians. The group was welcomed by the Chairman of the Defence Committee, His Excellency José Maria Barrera Fontes. In his short introduction, he underlined how stability is crucial for economic growth and the well-being of the population. He also confirmed Spain's commitment to international organizations in general and to NATO, for example on the question of dedicating 2% of GDP to defence spending.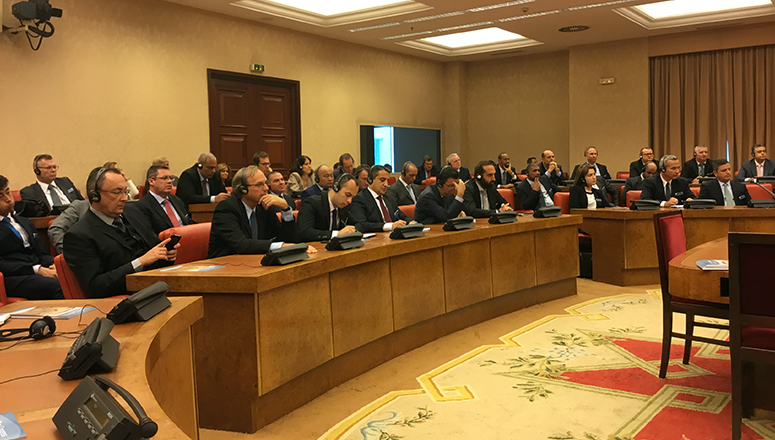 Course Members then moved to the CESEDEN, the Centre for Defence Studies of the Spanish Armed Forces. They were welcomed by Major General D. Francisco de Paula Bisbal Pons, Deputy Director of the CESEDEN, who gave the floor to Major General Luis A. Ruiz de Gordoa Pérez de Leceta, Deputy Director for Plans and International Relations in the Ministry of Defence, to present Spanish Defence Policy. He first presented challenges, dangers and threats from a globalized world perspective, including cyber as well as the classic ground, sea and air dimensions. He insisted on terrorism and interestingly complemented the often cited "arc of instability" with a "ring of fire" around the Sahel to explain the importance of the region. Moving to NATO, he spoke about the current debates within the Alliance like the prioritization between the so-called "Eastern" and "Southern" flanks, as well as the 2% of GDP spending rule. He also showed concretely the commitment of Spain to the different operations of the major international organizations. These examples afforded a concrete explanation of defence policy. The presentation was followed by a discussion with Course Members.
This session was followed by another presentation made by LtCol Jose Ramón Blanco Castro from the Planning Division of the Spanish Joint Staff, who talked about the Defence Planning Process of the Spanish Armed Forces. He explained the relationship between the different forms of planning (force, resources, personal, material, operational, etc.) and showed clearly all the steps leading to a coherent capability plan, from the definition phase to execution, including the review and reporting of progress. He then presented various procurement projects in areas such as submarines, armoured vehicles, frigates, satellites and drones. At the end of his presentation, he illustrated how the Spanish Planning Process (spanning 2+6 years) is synchronized with the NATO Defence Planning Process (NDPP, over a period of 4 years).
The session was greatly appreciated by Course Members. From political discussions to the realization of procurement programmes, Spain showed very coherent processes, well thought out and pragmatically implemented. The Senior Course received a warm welcome in Spain, where some "Anciens" of the NDC attended the sessions and helped with organization. The College is very grateful for this successful visit.