NRCC-18 Field Study
24 Oct. 2017
|
Last updated: 27 Oct. 2017 08:43
During the week of 16-20 October, the eighteenth NATO Regional Cooperation Course (NRCC-18) and the staff of the NDC's Middle East Faculty (MEF) completed a field study to Brussels, Mons and Athens.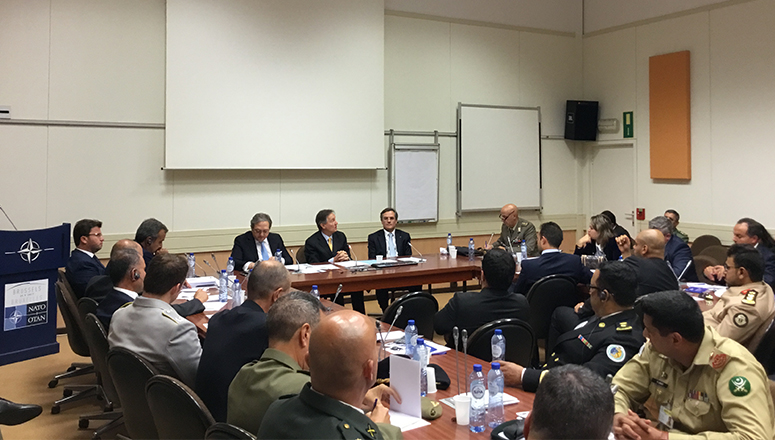 The purpose of this field study was to engage with individuals who are actively shaping not only the Alliance's day-to-day activities, but also its overall strategic vision of cooperation and partnerships.
Over the course of the week, Course Members received briefings on all aspects of NATO missions, encompassing outreach activities with partners in the Middle East and North Africa (MENA), crisis management and military planning.
The first stop was NATO Headquarters in Brussels, Belgium. Course Members were addressed by General Petr Pavel (CZE), Chairman of the Military Committee. Following this, they received briefings on NATO's outreach to the Mediterranean and the Middle East from Mr Nicola de Santis, Head of the MENA Section in NATO's Political Affairs and Security Policy Division. The next briefing, by Mr James Apathurai, Deputy Assistant Secretary General for Political Affairs and Security Policy, discussed NATO partnerships across the globe. Further briefings at HQ covered topics such as crisis management, military cooperation and relations with Russia. To end the visit, Course Members took part in a discussion with the Italian and Portuguese Permanent Representatives to NATO.
The following day saw Course Members visiting Strategic Headquarters Allied Powers Europe (SHAPE) in Mons, Belgium. In the morning they were briefed on Allied Command Operations and given the Military Planning Division's perspective on NATO Partnerships. The day concluded with a question and answer period chaired by LtGen Hugues Delort-Laval (FRA), SHAPE's Vice Chief of Staff.
Flying to Athens for the second leg of the field study, NRCC-18 spent Thursday and Friday at the Hellenic Armed Officers' Club. Thursday included briefings on Greece's Defence, Finance, and Foreign Ministries, as well as cultural activities. On Friday, Course Members participated in a conference on "Greece's Defence and Security Policy and Issues", which included briefings on the Balkans and regional challenges in Europe's neighbourhood.