Lecture of Opportunity by the Minister of Defence of Pakistan, H.E Eng. Khurram Dastgir Khan
26 Oct. 2017
|
Last updated: 27 Oct. 2017 08:44
On 26 October 2017, the NATO Defense College (NDC) in Rome was honoured to receive the visit of the Minister of Defence of the Islamic Republic of Pakistan, H.E Eng. Khurram Dastgir Khan. During his visit, the Minister was accompanied by the Ambassador of Pakistan to Italy, H.E Nadeem Riyaz and by the Defence Attaché of the Embassy of Pakistan in Rome, Group Capt. Wasim Qureshi.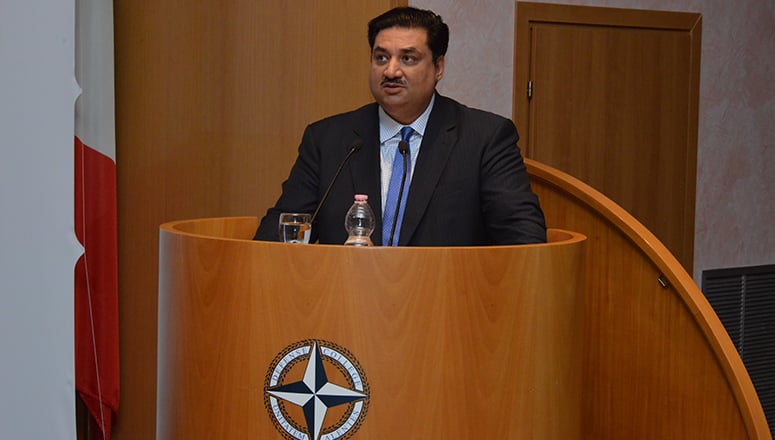 The purpose of the visit was to deliver a lecture on "Pakistan's Role in Regional Stability" to Course Members and staff, and to strengthen relations between Pakistan and NATO.
Upon arrival, the Minister was greeted by the NDC Dean and Acting Commandant BrigGen (ret.) František Mičánek and other NDC leaders who briefed the party on the main activities of the College.
Colonel James Huber (USA A), from the Academic Planning and Policy Division introduced the Minister who then gave a thought-provoking lecture which was followed by an excellent Q&A session.
Pakistan is a member of the Alliance's "Partners Across the Globe". In 2010, during a visit to Islamabad, the NATO Secretary General and the Government of Pakistan reached an agreement to jointly develop a political declaration as a framework for partnership. Relations have been developing since then. The NATO Defense College has, over time, hosted a total of 5 Senior Course members and 11 NRCC members from Pakistan.
The day was concluded by another Lecture of Opportunity delivered by Rear-Admiral Darren Carl Hawco (CAN N), entitled "NATO Capability Based Planning and the Canadian National Approach to Defense Capability Building". This lecture was also followed by an interesting Q&A session.