SC 131 Transatlantic Link Field Study - New York, United Nations
13 Nov. 2017
|
Last updated: 13 Nov. 2017 13:17
Senior Course 131's second Field Study ended with an excellent visit to the United Nations in New York City, where Course Members were briefed, visited the UN Headquarters and were given a tour of the 9/11 memorial.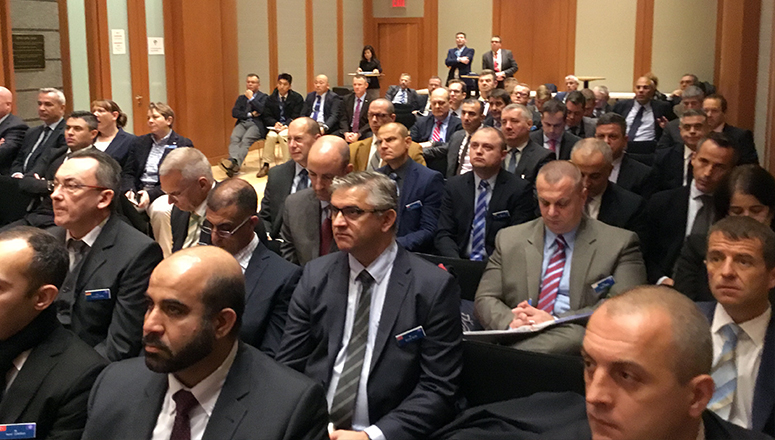 The first briefings were held at the German House near the UN buildings and were dedicated to United Nations Peacekeeping. First, United States Army MajGen Hugh van Roosen, Deputy Military Advisor to Peacekeeping Operations took the floor and described UN peacekeeping operations (PKO) from a military point of view. He gave some interesting facts about the Operations and commented the overall Command and Control structure. He also spoke about the challenging context within which PKO occurs today, with asymmetric threats made all the more relevant by cross-border flows of ideas, weapons, funds, fighters and the illicit enrichment trade that exacerbate intra-state conflicts. He stressed the significant changes occurring within the UN HQ in New York to improve strategic, operational and tactical level PKO activity. He dedicated a lot of time to interacting with Course Members and answering questions. The Course Members were mostly interested in the cooperation between the UN and other international organizations, especially NATO.
The second speaker was Mr Peter Due, Director for Asia, Middle East, Europe and Latin America at the DPKO who talked about the same topic but from a civilian/political point of view. He described the multidimensional approach of the UN, which is in fact similar to the Comprehensive approach of NATO. He spoke frankly about some failures in UN Peacekeeping in the 90s but said there have been a lot of improvements since then. In this regard he described the possible changes of structure the UN could experience in the future, in particular a better integration between operations and political structures. He described the interaction between NATO and the UN, especially at policy level. At the end of his presentation he underlined the key role of the UN in keeping peace, the role of the troop contributing countries to UN missions/operations and the partnerships the UN has established with international organizations, in particular the AU.
After the briefings, participants moved across the street and had a tour of the UN building, during which they visited the meeting room of the Security Council and the impressive hall where all UN members gather for the General Assembly.
In summary, SC 131 is now much more aware of how the UN works, and the visit was very much appreciated.
In the afternoon, the Senior Course moved to the 9/11 memorial where they received a briefing and had the opportunity to visit the museum.
The NATO Defense College organizes Field Studies so that Course Members can gain first-hand knowledge of security policies, structures, the working and functions of national defence establishments, governments and international organizations, by meeting national, regional, and global decision-makers in their respective capitals and headquarters.