NRCC 18 Graduation Ceremony
24 Nov. 2017
|
Last updated: 24 Nov. 2017 21:19
On 24 November 2017, the graduation ceremony for the eighteenth NATO Regional Cooperation Course (NRCC-18) took place at the NDC.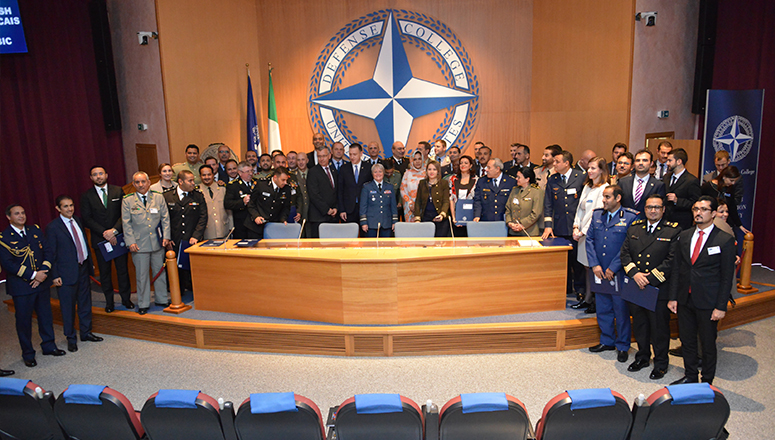 H.E. Minister Mihai-Viorel Fifor, Romanian Minister of Defence, delivered the graduation address.
The Commandant, LtGen Chris Whitecross opened the ceremony with an introductory speech, in which she praised the outstanding contribution of the NRCC to the overall educational mission of the College. "The Course", she said, "provided the participants with the proper ways and means to analyze strategic situations and tools to find a common ground in order to solve complicated issues".
During his lecture, Minister Fifor described the current security threats and challenges from both NATO and Romanian perspectives, and said: "the Alliance has to do more and more every day. NATO needs to be able to change itself in order to adapt to these challenges".
To complement his address, the Minister praised the creation of NATO Strategic Direction Hub for the South and the initiative of the Readiness Action Plan, as the "first steps to strengthen the defence posture". Finally, the Minister congratulated Course Members on their success. "I encourage you to move forward the partnerships in the next generations", he further added.
Dignitaries and representatives of the diplomatic and defence communities in Rome, NDC leadership and staff were present to witness the conferment of Course Members' diplomas by H.E. Minister Mihai-Viorel Fifor, the NDC Commandant, the Dean, BGen (ret.) František Mičánek, ,the Director of the Middle East Faculty Col Filippo Bonsignore and the Head of the Budget and Finance Branch Mr Vincenzo DiStefano.
The overall aim of the NRCC is to enhance cultural awareness within NATO nations and between the Alliance and its partners. With as many as 46 of the Course Members representing 20 countries in the Istanbul Cooperation Initiative, the Mediterranean Dialogue and the Partnership for Peace, as well as Global Partner countries (Iraq, Pakistan, Afghanistan), NRCC attendance shows a very positive trend in terms of the Course's inclusiveness.