Ninth Edition of the Middle East Faculty Academic Advisory Board
05 Dec. 2017
|
Last updated: 07 Dec. 2017 09:30
On Tuesday 5 December 2017, the Academic Advisory Board (AAB) of the Middle East Faculty (MEF) met for its 9th annual meeting at the NDC.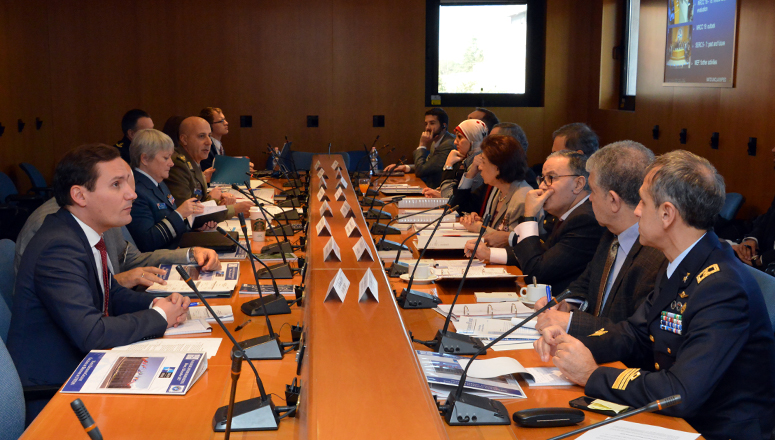 The meeting was attended by NDC Commandant LtGen Chris Whitecross (CAN F), Dean BGen (ret.) František Mičánek (CZE), as well as the MEF Director Col Filippo Bonsignore (ITA A) together with distinguished AAB members and guests: the Ambassador of Bahrain to Belgium, H.E Bahiya Aljishi; the Egyptian Ambassador in Brussels, H.E. Khaled El Bakly (representedy by Counsellor Hanan Shahin); H.E. Amar Belani, Ambassador of Algeria in Brussels; Dr Bahgat Korany (EGY), Academic Advisor; Dr Alberto Bin (ITA, NATO/HQ); MajGen Stefano Vita Salamida (ITA, DCOS JFT HQ SACT); and the MEF Faculty Advisors.
Welcome remarks were delivered by the Commandant, after which the Director of the Middle East Faculty spoke about the development of skills, previous AAB recommendations and briefed the audience on the running of NRCC-18 with a view to the upcoming NRCC-19. Finally, AAB members were introduced to the programme for the 7th edition of the Senior Executive Regional Conference (SERC), which aims to improve NATO's cultural awareness and consensus building, and explore other MEF strategic issues.
This year's AAB addressed possible ways for further strengthening cooperation between Partner countries (MD, ICI and Global partners) and NATO institutions through the NRCC, and explored potential avenues for diversifying the audience for MEF programmes.
Having an advisory forum of this calibre is extremely important: a constant review procedure helps ensure not only that the MEF provides an eminently relevant academic framework, and closer links with similar organizations in MD and ICI countries, but also that voluntary contributions to the MEF are appropriately encouraged and coordinated.