SC 131 Regional Approaches and MD Field Study - Turkey/Ankara
21 Dec. 2017
|
Last updated: 21 Dec. 2017 14:55
On the final stage of its Field Study, SC 131 travelled from Jordan to Turkey. Briefings in Ankara afforded a perfect complement to the lecture of some weeks ago at the NDC, by the Minister of Foreign Affairs of the Republic of Turkey.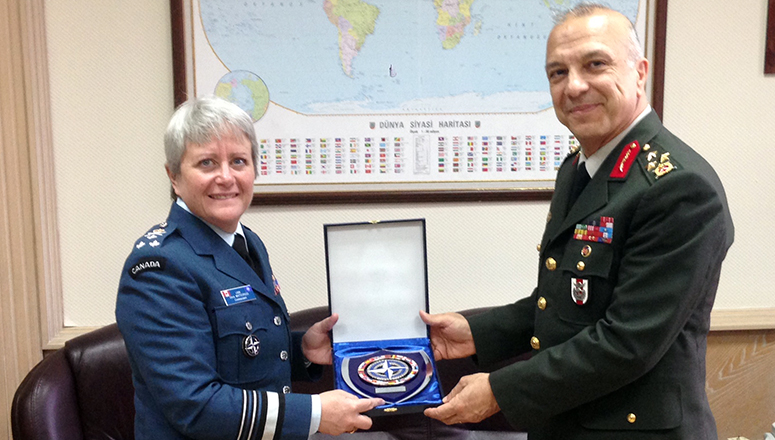 The Senior Course was welcomed by Lieutenant General Yavuz Türkgenci, Head of J5 in the General Staff, where a number of briefings and discussions were organized for the benefit of the group. The first part of the briefings was dedicated to foreign affairs. Ms Istem Circiroğlu from the Directorate General for Policy Planning, an NDC Ancienne, spoke about the main aspects of the foreign policy of the Republic of Turkey. She used the changes in the international system to explain the multi-dimensional answer of her country. She gave examples of the active role of Turkey in bliateral, trilateral and multilateral organizations, dwelling on its efforts in mediation, facilitation and negotiation, and gave some details about humanitarian aid and public diplomacy. She was followed by Mr Burcin Gönenli, who spoke about the geostrategic position of Turkey. He showed clearly how the strategic orientations of NATO towards the south and east coincide with the geographic position of Turkey and explained the implications related to the Black Sea and Aegean. He also spoke about the next NATO summit in 2018 and the position of Turkey in relation to the Alliance's open door policy. Both speakers answered a number of questions from Course Members.
The second part of the briefings, after a coffee break, was dedicated to military issues. BG Mustafa Öguz talked about the contributions of Turkey to regional and global security. Being in the centre of the so-called "arc of instability", Turkey has a role to play in the resolution of the related issues and conflicts. He mentioned different countries where Turkey is active (and implements the policy explained by the preceding speakers) and spent some time dealing with the fight against terrorism. He was followed by Mr Ersoy Aksoy, Undersecretary for the Defence Industry, who briefly explained procurement policy, its evolution since the 1970s and plans for the near future.
This short stop in Ankara was very useful to Course Members, helping them understand the specific issues of Turkey. They were also allowed to visit the Parliament, where the attempted coup d'état took place in 2016.