SC 131 Regional Approaches and MD Field Study - Turkey/Istanbul
22 Dec. 2017
|
Last updated: 22 Dec. 2017 17:37
For its second stop in Turkey, SC 131 moved to Istanbul and attended three briefings in the National Defence University facilities (Atatürk Auditorium). The first speaker, Col Firtina, welcomed participants and introduced the Turkish National Defence University to them. He presented its structure (the three War Colleges, for the Army, Air Force and Navy; the Joint War College; and the different related institutes), and spoke about the curricula: the University offers full coverage of military sciences and staff training at the tactical, operational and strategic levels.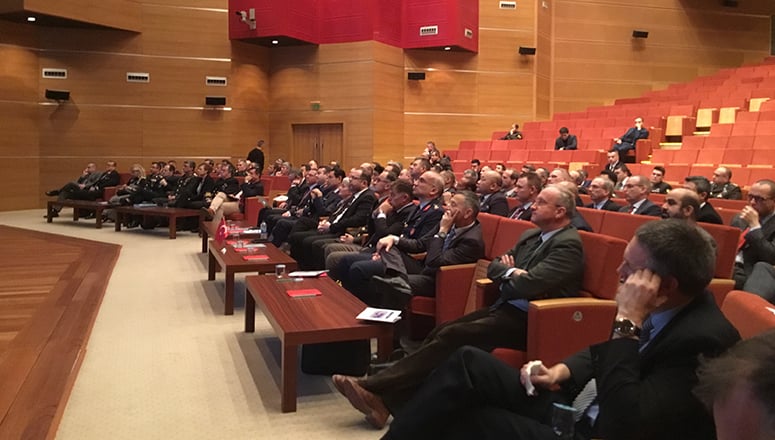 The second briefing was about the Multinational Maritime Security Centre of Excellence. Capt Kayser first gave a definition of maritime security and then described all the initiatives taken in this domain at a global, regional and national level. He took a 'risk and crisis management' perspective to explain how the different initiatives are related to the various (sub-)domains of maritime security (piracy, fishing, climate change, etc.). After describing the role of the Centre of Excellence, he explained how it works, speaking about its structure and the results achieved. He illustrated the educational activities and the different courses run by this multinational NATO institution, including conferences, exercises and publications. At the end of his briefing he dwelt on the COE's international collaborations, looking at how it works with Interpol, with other COEs and with the countries on the East African coast.
The last briefing, by Col Cömert, was about the Multinational Joint Warfare Centre (MJWC). After explaining its structure and mission, he showed the many exercises the centre has been running over the last few years (about three per year at operational/strategic level, each with approximately 3,000 participants). This Centre is essential for doctrine development and experimentation of joint concepts. To close the briefing, the speaker commented on the Centre's different capabilities, focusing in particular on wargaming and simulation The delegation was then invited to visit the MJWC and have a look at its modern facilities.
This visit was very informative for Course Members, affording them valuable insight into the military educational system in Turkey and Turkey's role in NATO.