New Research Division Publication -
Nuclear Reorientation of NATO
05 Feb. 2018
|
Last updated: 02 Oct. 2018 09:42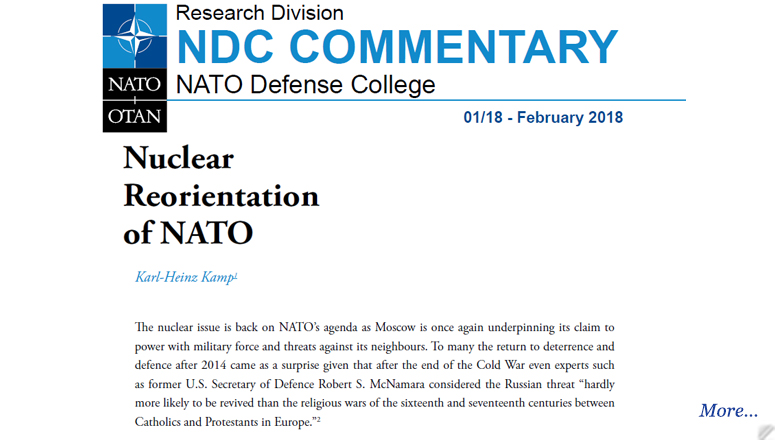 Dear Reader,

The nuclear issue is back on NATO's agenda as Moscow is once again underpinning its claim to power with military force and threats against its neighbors. To many the return to deterrence and defense after 2014 came as a surprise. With regard to conventional weapons it was remarkable how swiftly and decisively NATO responded to Russia's aggression in Ukraine and strengthened its deterrence posture with tailored military measures, particularly in Eastern Europe. In terms of nuclear capabilities, however, as the author points out, NATO remains largely silent, even though it is obvious that credible deterrence needs to include both conventional forces and nuclear weapons. There has been no public mention of possible changes to its military hardware or any serious discussion about what conceptual changes are needed in the area of nuclear strategy.
NATO has still to come to terms with the strategic changes since 2014 as far as nuclear weapons are concerned. Its nuclear concept remains based on a cooperative security order in Europe that no longer exists. It became obsolete with Russia's return to a policy of aggression in Eastern Europe. NATO's nuclear policy originated in the Cold War, and although some parts have been modernized technically, it has not been adapted strategically. When it comes to declaratory nuclear policy, there is progress but the complex relationships between nuclear, conventional, and deterrence and defense capabilities remain largely unclear.
We are pleased to introduce in this paper our newest series of publications. NDC Commentary is meant to provide our readership with short, timely, highly readable and sometimes controversial perspectives on the issues of the day. NDC Commentary refreshes and updates the former Research Reports that were published by the College for many years. We hope you enjoy this first paper in the new series, written by a former director of the NDC Research Division. Karl-Heinz Kamp is one of the Alliance's leading experts on deterrence and NATO nuclear policy, and we welcome his contribution to the discussion.


Regards,
Jeff
Jeffrey A. Larsen, PhD, Director Research Division