New Research Division Publication: "Educating to cross-cultural competence: The case of the NATO Defense College"
07 Feb. 2018
|
Last updated: 02 Oct. 2018 09:42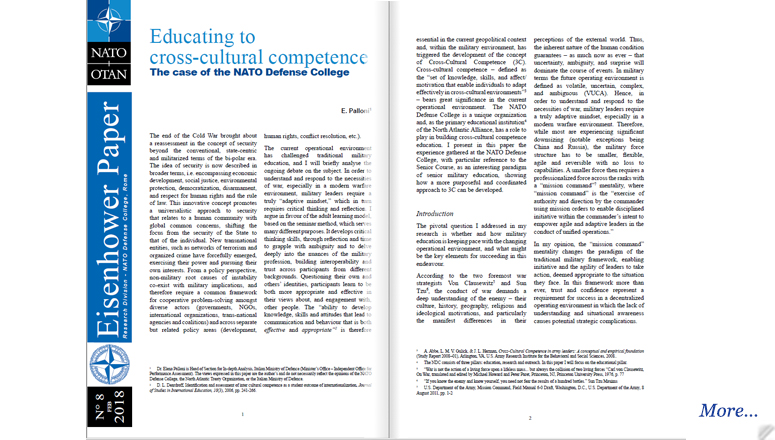 Dear Reader,

The latest Eisenhower Paper by the Research Division of the NATO Defense College observes how the current operational environment has challenged traditional military education: the innovative notion of security, where non-military root causes of instability co-exist with military implications, requires a common framework for cooperative problem-solving amongst diverse actors, along with military leaders who possess a truly "adaptive mind-set."
This paper is based on the author's experience gained while serving as a faculty advisor at the NATO Defense College. She believes the NDC serves as an interesting paradigm of senior military education, and as an on-going example of educating to cross-cultural competence – defined as the "set of knowledge, skills, and affect/ motivation that enable individuals to adapt effectively in cross-cultural environments". The author argues that the seminar method used at the NATO Defense College is key to developing critical thinking skills, through reflection and time to grapple with ambiguity and to delve deeply into the nuances of the military profession. At the same time, the course allows its participants to build interoperability and trust among colleagues from many different backgrounds.
The Eisenhower Papers are designed to serve as a forum for discussion within the professional military education community. We hope you find this latest paper to be thought provoking.
Regards,
Jeff
Jeffrey A. Larsen, PhD, Division Head Research