Inauguration of Senior Course 132 and NATO Regional Cooperation Course 19 by Deputy Supreme Allied Commander Transformation Admiral Manfred Nielson
20 Feb. 2018
|
Last updated: 20 Feb. 2018 16:14
On 20 February 2018, the NATO Defense College (NDC) had the pleasure to welcome Senior Course 132 (SC 132) and the nineteenth NATO Regional Cooperation Course (NRCC-19).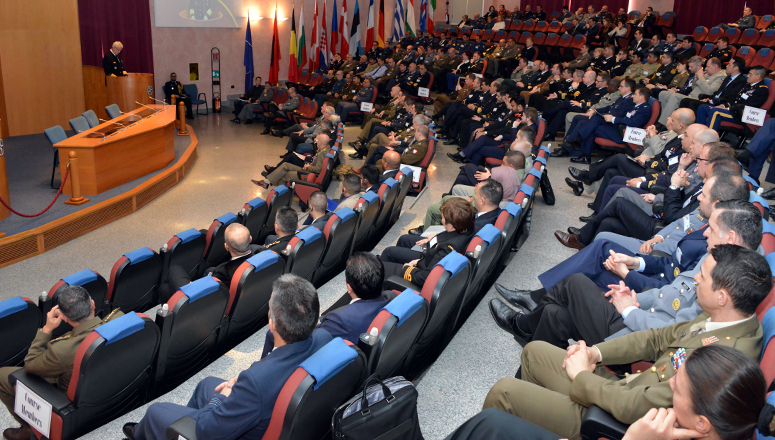 The inauguration was held on 20th February in the Maynard-Thorn Auditorium at the NDC. The new Course Members were warmly welcomed by NDC Commandant Lieutenant General Chris Whitecross and by the NDC Dean BrigGen (ret.) František Mičánek. The Commandant in his introductory speech stressed the ever-increasing importance of the courses not only from a strategic and cultural perspective, but also with a view to global cohesion.
The guest of honour for the inauguration was Deputy Supreme Allied Commander Transformation, Admiral Manfred Nielson. In his speech he underlined new challenges for NATO, such as: "the exponentially growing rate of technologies that will continue to transform our societies at all levels; the asymmetric demographic change, aging populations, and increasing urbanization, combined with the polarization of our societies". Later, the Admiral highlighted that: "We in NATO, and especially you as course attendees here, need to embrace uncertainty, need to sharpen our curiosity, need to learn from the rapidly changing world around us, and need to enhance our interaction".
Senior Course 132 brings together 74 high-ranking military and civilian participants, from 30 countries that include NATO member states alongside Partner countries in the Partnership for Peace (PfP), Mediterranean Dialogue (MD) and Istanbul Cooperation Initiative (ICI), as well as Partners across the Globe. The twice-yearly Senior Course takes pride of place among the College's activities, giving an excellent strategic-level education, with a great variety of contemporary perspectives on international geopolitical affairs. Lasting almost six months, SC 132 will comprise three Field Studies during which Course Members will have the opportunity to meet national, regional and global decision-makers.
NRCC-19 brings together 46 high-ranking military officers and civilian officials from 18 countries. The Course, which lasts about two months, is designed to improve knowledge and understanding of the geopolitical importance of certain selected geographical areass and examine key political, military, social and economic trends within them. In addition, it fosters and develops possible roles for NATO in helping to manage threats and challenges within the broader Middle East, including Afghanistan and Pakistan.