SC 132 European Security Perspectives Field Study Berlin, 21 March 2018
22 Mar. 2018
|
Last updated: 26 Mar. 2018 14:17
For its first stop abroad Senior Course (SC) 132 visited Germany and received briefings at the Federal Ministry of Defence in Berlin. Course Members and accompanying staff were welcomed by Col Wenning from the Strategic and Operations Directorate and by Navy Captain Altmeier, the German Faculty Adviser at the NDC, who introduced the speakers and moderated the debates.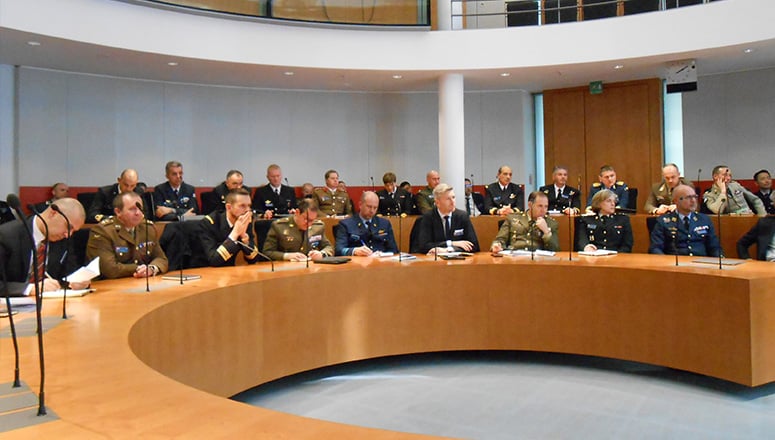 Col (GS) Peter Wenning from the Military Policy and Operations Division in the German MoD took the floor first. He described the current security situation in Europe and spoke about the "Weissbuch", the German white paper on security policy and the future of the armed forces from 2016. In his introduction, he commented on the general security environment for Germany and the consequences for the security interests of the country, and then moved on to talk about the different operations in which Germany is currently involved with NATO, the EU and the UN. He listed some of the missions Germany is contributing to, covering all the threat spectrum (for example terrorism, piracy, migration, but also the German contribution to the NATO enhanced forward presence), revealing a very clear relationship between policy and operations.
The second briefing by Col (GS) Wolfgang Ohl from the Security and Defence Directorate gave an overview of German Security Policy. At the beginning of his presentation he identified the changes in German policy from the White Paper in 2016 and underlined that security is not only the duty of the state but, increasingly, a joint task by state, industry, the scientific community and society at large. He also spoke about the changes in NATO from a policy perspective and mentioned several initiatives resulting from the last summits. He also explained the role of Germany in the Framework Nation Concept. On the EU side, he discussed the progress on PESCO and the issue of a European Defence Union. He also addressed the significance of the UN and the OSCE for German security policy and mentioned bilateral and multilateral cooperation (Eurocorps or the DEU-FRA brigade, for example). Col Ohl ended by raising the issue of using the Armed Forces at national level to guarantee internal security and the use of the military in cross-ministerial activities (whole of government approach). He also mentioned funding for the Armed Forces.
After lunch and a visit to the Bundeswehr memorial, SC 132 met with Members of the Foreign Affairs Committee and Parliamentary Defence Committee (Bundestag). Mr Henning Speck, Mrs Siemtje Möller and Jürgen Hardt focused on future German political challenges related to security. They, then, discussed issues mostly related to the European Union and PESCO and answered CMs' questions.