NATO - African Union Partnership Conference hosted at NATO Defense College
13 Apr. 2018
|
Last updated: 13 Apr. 2018 19:16
On 11 April 2018, the NATO Defense College had the distinct pleasure of co-hosting a conference jointly with the Operations Division of NATO Headquarters, inviting a delegation from the African Union (AU) together with 30 representatives, subject matter experts and researchers from NATO Headquarters, the African Union, NATO Joint Force Command Naples, Allied Command Operations, Allied Command Transformation and the NATO Defense College Foundation. The conference was entitled "Strengthening NATO-African Union Relations".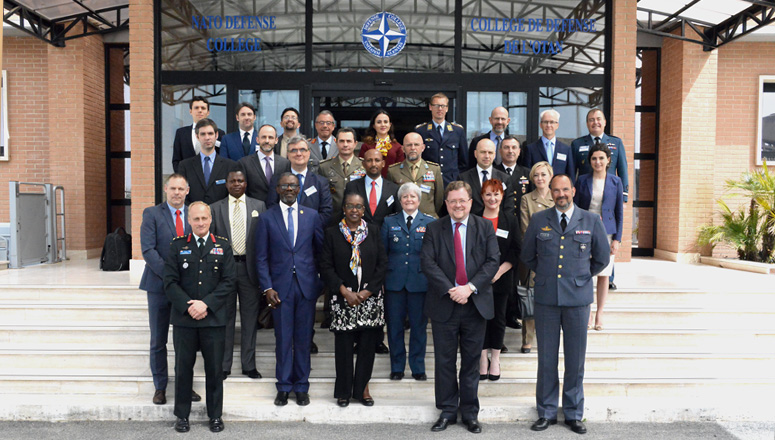 The AU delegation was led by Ambassador Bineta Diop, African Union Commission Chairperson's Special Envoy on Women, Peace and Security. The NATO Headquarters delegation was led by Mr Patrick Turner, Assistant Secretary General for Operations, assisted by Ms Claire Hutchison, the NATO Secretary General's Representative for Women, Peace and Security. Proceedings were moderated by Colonel Ian Hope, NDC RD; Dr Mehari Taddele Maru, Adviser to IGAD; and Mr Michel Soula, Head Operations and Missions Section, OPS Division, NATO Headquarters.
The event commenced with a welcoming address by the Commandant of the NDC, LtGen Christine Whitecross. The following panels involved in-depth presentations and discussions on the significant progress made thus far in the 13-year history of NATO-AU relations, and reflections on possible areas of future improvements.
The participants placed particular emphasis on the identification of common challenges and threats facing both NATO and the AU, and the consequent continued need for complementarity of strategies and expertise between the two. To this end, continuous engagement in extensive political dialogue and practical cooperation is indispensable to maintaining the current momentum of an improving relationship. To a significant extent, the proceedings focused on security issues of mutual concern, such as instability, terrorism and the enhancement of relevant countermeasures.
In addition to tackling numerous subjects closely tied to the field of security and peacekeeping, the attendees also addressed humanitarian issues, chiefly among them the protection of women and children in conflict areas.
By the end of the proceedings the participants had formed a consensus, declaring the conference a successful exercise in fruitful dialogue and increased mutual understanding, and recognizing the need for concerted planning and action to solve present and future issues of common concern. This event was five years in the making, and all attendees agreed to exert maximum effort to ensure a follow-on event as soon as possible.