SC 132 Transatlantic Link Field Study: Allied Command Transformation (ACT), Norfolk, Virginia, USA
15 May. 2018
|
Last updated: 15 May. 2018 15:00
Gen Denis Mercier, Supreme Allied Commander Transformation, welcomed Senior Course 132 to the Allied Command in Norfolk.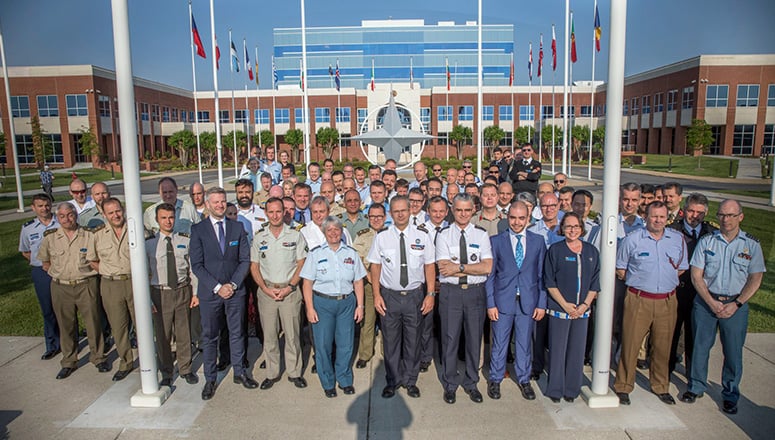 In his introduction, Gen Mercier gave his views on the evolution of the security environment since the Cold War and spoke about relations and interactions with current and potential actors in times of crisis. He also addressed strategic assumptions and their evolution. He explained the current activities of ACT and different strategic orientations, citing the work produced by the Strategic Command (for example the Strategic Foresight Analysis) and the results for the NATO planning processes; and underlined integration of the cyber domain. He also spoke about projecting stability, the importance of partners, regional approaches and the different initiatives associated with them. He ended his presentation with some explanations about the future changes in the Command structure, especially in the new Joint Force Commands and linked these changes with technological developments in the security environment.
The SC then split into 4 working groups with ACT experts, to discuss a range of topics from "Projecting stability and building integrity" to "Disruptive technologies and the future of warfare", and from "Projecting stability in the Southern neighbourhood" to "The current strategic Concept and the revised NATO military strategy". These issues are in line with the papers that Course Members will produce during their Senior Course, thereby achieving a win-win situation for Course Members and ACT experts alike, since these exchanges contribute greatly to a better common understanding of the topics.
After a coffee break, Course Members came together again in the main auditorium for a question and answer session moderated by Navy Capt Altmeier, Faculty Advisor at the NDC. Gen Mercier (SACT), Air Marshal Sir Stacey (COS), BGen Tsouganatos (Assistant Chief of Staff for Joint Education) and BG Sommer, (DCOS Resources) answered their questions.
The trip to Norfolk was again very useful to better understand NATO's transformation processes and how they are decided, piloted, and implemented. The briefings were a useful complement to the lectures held in Rome during the study period dedicated to NATO.