SC 132 Transatlantic Link Field Study. Washington: National Security Council, Joint Staff and Legislative Office
16 May. 2018
|
Last updated: 16 May. 2018 14:48
For the first briefings in Washington, SC 132 went to the Eisenhower Executive Office Building (EEOB). They were welcomed by Dr Richard Hooker, Special Assistant to the President and Senior Director for Europe and Russia in the White House.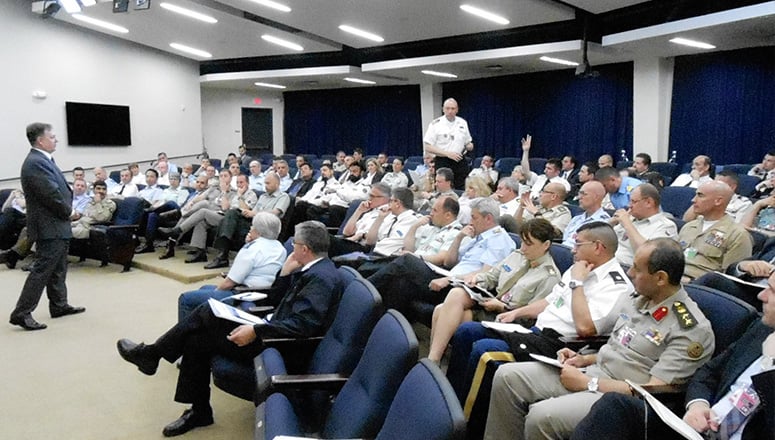 In one of his previous assignments Dr Hooker was Dean of the NDC (2010-2013). He spoke about the National Security Council (NSC), its role, history and organization. He explained how the NSC works and its decision-making mechanism. After his talk a panel was organized with higher representatives of the NSC, giving the NDC group a rare opportunity to discuss current world issues with them. Course Members were particularly interested in Africa, the Middle East, China and Russia, but also Europe, NATO and the European Union. On all these points, there was ample discussion of related United States policy and strategy.
After a lunch at Capitol Hill, SC132 received a second series of briefings. If the morning was more dedicated to national security strategy, the afternoon was more defence-oriented.
MG P. Kennedy, Commanding General, Marine Corps Recruiting Command took the floor first and welcomed the Course Members to the Capitol facilities. He spoke about the Office of Legislative Affairs and explained how this unique organization works to establish the link between the military and politics. After a short break, a panel with representatives of the Joint Staff explained to Course Members how the Services implement policy. MG J. Jansen, an Ancien of the NDC, Commandant of the Dwight Eisenhower School for National Security and Resource Strategy at the National Defense University, took the floor and gave a US Marines perspective. BG B. Gericke, Deputy Director Strategy, Plans and Policy, J-5 US Central Command gave the US Army view; and BG A. Grynkewich, Deputy Director Global Operations, presented the US Air Force perspective. They all spoke about defence strategy as part of security strategy, dedicating time to Course Members' questions.
This first part of the visit in Washington was very well structured and gave Course Members strategic-level insight into US perspectives on a range of defence topics. The frank and open discussion enabled the group to better understand US views, as well as the role of the US in NATO and in international relations in general. This was an excellent complement to the presentations and lectures received in Rome, thus fulfilling a key function of Field Studies as an integral part of the Senior Course curriculum.