47th Conference of Commandants at the Croatian Defence Academy "Dr Franjo Tuđan"
01 Jun. 2018
|
Last updated: 01 Jun. 2018 13:58
The 47th edition of the NATO Defense College (NDC) Conference of Commandants (CoC 2018) took place at the Croatian Defence Academy "Dr Franjo Tuđan" (CDA) in Zagreb, from Tuesday 29 to Thursday 31 May. The event is one of the NDC's longest running outreach events and is unique in bringing together the Commandants of educational and academic institutions from across the NATO Alliance, but also from partners and civilian institutions. The 47th Conference was co-hosted by the Commandant of the NDC, Lieutenant General Chris Whitecross and the Commandant of the CDA, Major General Mate Pađen.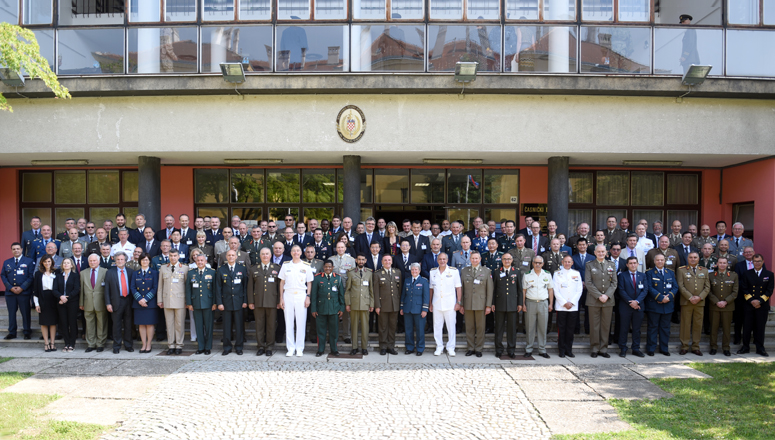 The main theme of CoC 2018 was "Innovation in the Classroom". In her opening remarks, Lieutenant General Whitecross stressed that "if we are to remain relevant to the future intakes of students into professional military education, those who have grown up and been educated in this fast-changing and constantly evolving technological world, we ourselves must be adaptable, and ready and willing to stay ahead of the game." Over the two day- Conference, 134 commandants and their delegations, representing 41 nations, including NATO, Partnership for Peace, Mediterranean Dialogue, Istanbul Cooperation Initiative nations, as well as Global Partners from as far afield as Australia, Brazil, Colombia, Japan and the Republic of Korea, listened to presentations from a wide and varied range of organizations and topics regarding technology and innovation in education. The exchanges between the Commandants and the presenters in plenary and in syndicates, not only informed, but also gave them a unique opportunity to share thoughts and ideas.
The Conference concluded that there is much technology available that can achieve education in a myriad of ways. However, actual educational needs must first be established, before matching them with technology. This is essential if the digital delivery of education is to be relevant and cost-effective. The matching of these needs across the various educational institutions within NATO could provide a collective benefit, by developing and using e-learning tools and maintaining a collaborative approach.