Lecture of Opportunity by the Canadian Ambassador to Italy, Her Excellency Alexandra Bugailiskis
25 Jun. 2018
|
Last updated: 26 Jun. 2018 04:57
On 25 June 2018, the NATO Defense College was honoured to receive the visit of the Canadian Ambassador to Italy, H.E. Alexandra Bugailiskis. The Ambassador, accompanied by LtGen Christian Juneau, the Deputy Commander of the Allied Joint Force Command in Naples, was welcomed by the NDC Commandant LtGen Chris Whitecross. The Ambassador delivered a valuable Lecture of Opportunity on the topic of Women, Peace and Security, and afterwards presented two Canadian Meritorious Service Medals.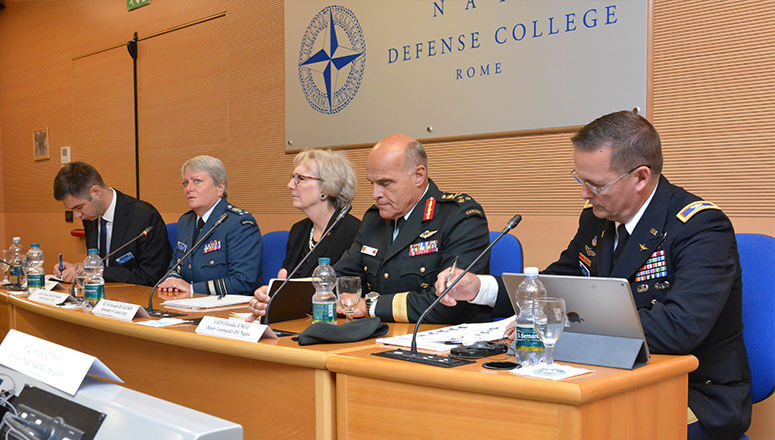 Col James Huber (USA A) introduced the Lecture of Opportunity, after which Ambassador Bugailiskis spoke, praising the strong, lasting relationship between Canada and Italy, and also commenting that this year marks the 75th anniversary of the Battle of Ortona. The main focus of the speech dealt with gender issues in peace and security, and how women can give important added value to peacekeeping activities. The Ambassador continued by underlining how this topic is crucial for Canada and for the entire Alliance. The lecture was followed by a stimulating and interested question and answer session, where Course Members had the opportunity to enter into detailed discussion of this critical issue.
After the lecture, the Ambassador presented two Meritorious Service Medals on behalf of the Governor General of Canada. One was awarded to Colonel Ian Hope (CAN A), Faculty Adviser and Senior Canadian Representative at the NDC, who was deployed to Afghanistan from June 2012 to June 2013 and distinguished himself as the Commander of Collective Training and as the senior coalition member at the Consolidated Fielding Centre. The second Meritorious Service Medal was presented to Warrant Officer Pierre-Marc Girard (CAN A), who provided outstanding service as Head of the Satellite Communications Maintenance and Support Section for the 2nd NATO Signal Battalion, from July 2015 to February 2017.