Air Marshal Sir Graham Stacey attends SC 132 Study Project presentations
13 Jul. 2018
|
Last updated: 13 Jul. 2018 14:50
Senior Course 132 members presented their Study Projects on 12-13 July 2018, in the presence of AM Sir Graham Stacey (GBR), Chief of Staff at NATO Allied Command Transformation, and of LGEN Chris Whitecross, NDC Commandant. The Study Project is a core academic activity of Senior Courses and culminates with a presentation in the Maynard-Thorn Auditorium, by the Course Members of each Committee, to NDC staff and invited guests.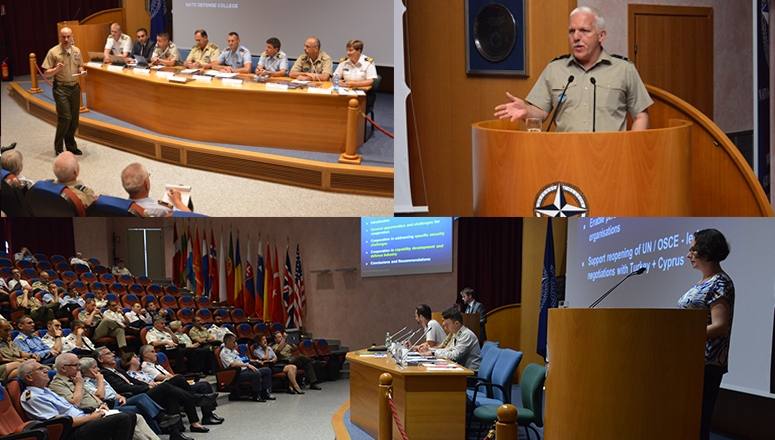 LGEN Whitecross welcomed AM Stacey before the beginning of the Study Project presentations. After AM Stacey had signed the NDC guestbook, they moved to the Auditorium for the presentations.
On the first day, 12 July, four Committees spoke about different NATO-related issues. The session was attended by Prof. Helen Dexter, Associate Professor in International Politics at Leicester University. AM Stacey afterwards commented on the high level of the Study Projects. He also spoke about the importance of Course Membersí keeping the NDCís unique network alive throughout their future careers, never losing sight of the valuable skills developed at the College.
On the following day, the presentations of the remaining four Committees were attended by Prof. Raffaele Marchetti, Associate Professor in International Relations at the School of Government of LUISS University in Rome. The Commandantís closing remarks emphasized the importance of Study Projects in improving the skills required for working in a multinational environment.
Sir Graham Stacey was commissioned into the Royal Air Force in 1980 and, since December 2015, has been assigned as Chief of Staff to NATO Allied Command Transformation in Norfolk (USA). Operational services include Belize, the Falkland Islands, Northern Ireland, Bosnia, Kosovo, the Gulf, Iraq and Afghanistan, in a variety of command, staff and advisory positions. His military education includes an MA (Kings London), the Royal College of Defence Studies (RCDS), the UK Higher Command and Staff College (HCSC), the Op modules of the US Capstone and Pinnacle programmes, and attendance at the NATO Steadfast Pinnacle course.