Inauguration of Senior Course 133 and NATO Regional Cooperation Course 20 by Lieutenant General (ret) Frederick Benjamin Hodges III
03 Sep. 2018
|
Last updated: 04 Sep. 2018 17:01
On Tuesday 4 September 2018, the NDC inaugurated Senior Course 133 (SC 133) and the twentieth NATO Regional Cooperation Course (NRCC-20).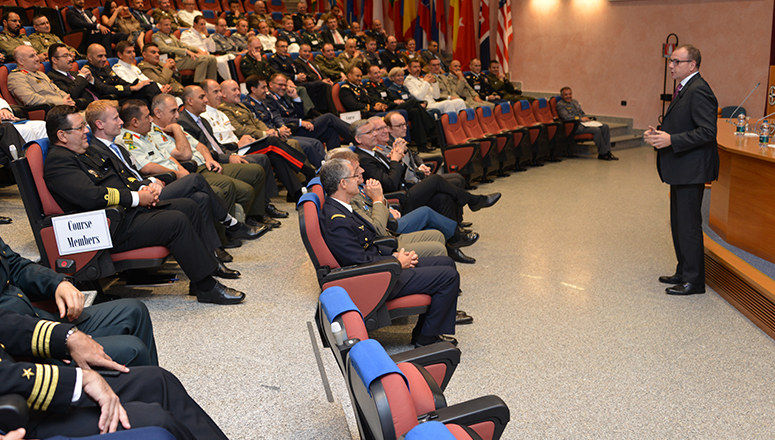 The inauguration took place in the Maynard-Thorn Auditorium. All the new Course Members were warmly welcomed by the NDC Commandant Lieutenant General Chris Whitecross and by the NDC Dean Brigadier General (ret.) František Mičánek. Guest of honour Lieutenant General (ret.) Frederick Benjamin Hodges III, Pershing Chair in Strategic Studies at the Center for European Policy Analysis and former Commander of the US Army Europe Command and NATO Allied Land Command (LANDCOM), addressed both courses. LGEN Hodges shared with the audience his personal memories of being a Course Member in 2012, underlining how crucial the professional network he had built up at the College had been throughout his subsequent career. He then dwelt on two key priorities for the Alliance, as stated during the NATO Summit in Brussels last July: the importance of better burden sharing among member states; and the need to preserve strong cohesion among member states.
SC 133 brings together 65 distinguished military and civilian participants, coming from 32 different countries: members of NATO, the Partnership for Peace (PfP), the Mediterranean Dialogue (MD) and the Istanbul Cooperation Initiative (ICI), as well as Partners Across the Globe. This is the NDC's most extensive platform for strategic-level education, and it offers a great variety of contemporary perspectives on international geopolitical affairs. Lasting almost six months, SC 133 will offer participants a unique opportunity to enhance their academic skills and their professional relations with colleagues worldwide.
NRCC-20 will, as is customary, run alongside the Senior Course. Lasting ten weeks and taking place twice a year, this strategic-level course encourages and supports closer cooperation with the Middle East and North Africa (MENA) region, analysing key political, military, social and economic trends while also enabling participants to discuss NATO's role in helping to address present and future challenges. The 36 high-level military and civilian participants attending NRCC-20 hail from the Mediterranean Dialogue (MD), the Istanbul Cooperation Initiative (ICI), Global Partners and, of course, NATO member states.
NDC staff join the Commandant and the Dean in wishing all participants a successful and fruitful start to their Academic endeavours.