The NDC hosts the Land User Working Group and Land C2 Capability Requirements Workshop
04 Oct. 2018
|
Last updated: 04 Oct. 2018 16:17
Two working groups from Allied Command Operations (ACO) and Allied Command Transformation (ACT) were hosted by the NDC for workshops, from 24 to 28 September 2018: SHAPE (Mons, Belgium) directed the 10th Land User Working Group (LUWG) from 24-25 September, while ACT (Norfolk, USA) led the 2nd Land C2 Capability Requirements Workshop (LRW) from 26-28 September.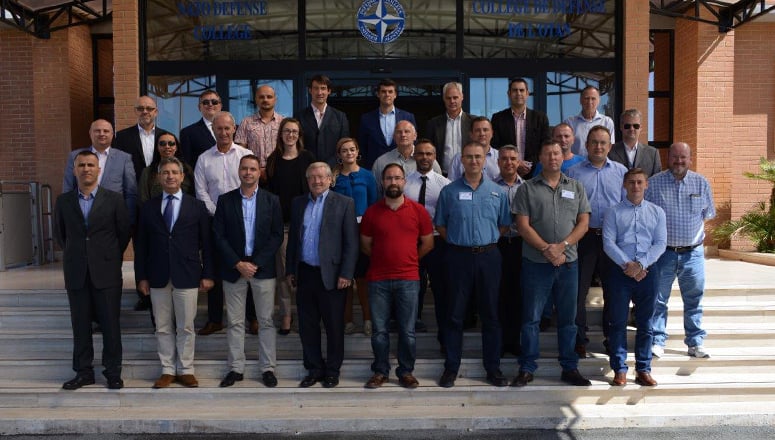 On 24-25 Sep, the 10th LUWG convened under the leadership of LTC Cahit Irican from SHAPE. The group discussed the status of the Land Command and Control Information System (LC2IS) and its implementation at KFOR for operations. Additionally, lessons learned were presented from several NATO exercises held in 2018.
On 26-28 September, LTC Ton Koedam (NLD A), as Programme Director for Land Command and Control (C2) Capability Development at ACT, was the lead for the LRW. The ACT Land C2 Team is responsible for leading a new programme for Future Land C2, in order to break the ties with the outdated legacy system.
Thirty-one representatives from twelve NATO commands and agencies attended the workshop to assist in development of requirements for the programme, based upon ACO's Future Land C2 Operational Requirements Statement (ORS). During the three days, over 100 user-based requirements were agreed upon by the representatives: these will help define the new capability in a "through life cycle approach". Additionally, the work initiated at this workshop will contribute to the development and submission of the Capability Requirements Brief to the Military Committee early in 2019.
LTC Stefan Holland (DEU Army) and LTC Serhat Kasalak (TUR Army), members of the ACT Land C2 Team, simultaneously agreed that: "The Capability Requirements Workshop has significantly assisted our Team to continue this process in a way to meet the decision points and key milestones on schedule." The next workshop in this series will be convened in early December 2018.