NRCC-20 Field Study in Athens: An overview of Greece's challenges
05 Oct. 2018
|
Last updated: 08 Oct. 2018 08:56
On 3rd October 2018, following the visit to NATO HQ and the European Commission in Brussels, the 20th NATO Regional Cooperation Course (NRCC-20) moved to Athens, Greece, for the last stop on its Field Study.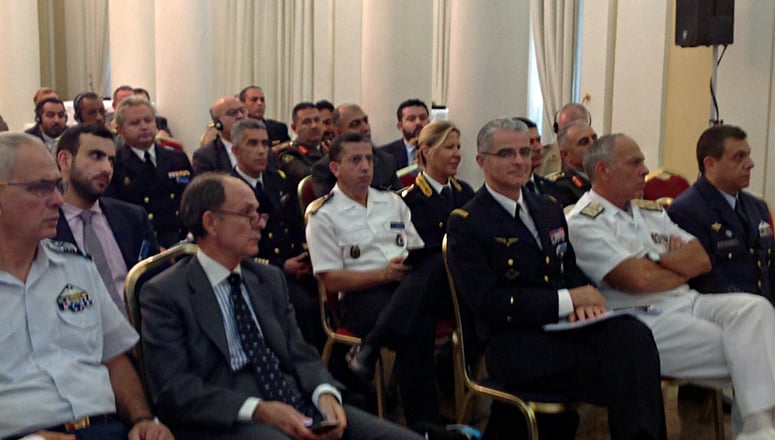 On 4th October, the NDC delegation was welcomed to the Hellenic Armed Forces Officers' Club by the Director of Studies of the Hellenic National Defence College, Col Michael Katsaris. The Head of Delegation, BrigGen D. Pincet (FRA F), and NRCC-20 Course President were then received by BrigGen Kostantinos Eugenios, Director of Education at the Hellenic National Defence General Staff.
The group attended five briefings, dealing with Greek defence and foreign policy, immigration trends and financial issues facing the country. Each of the briefings was followed by a lively Q&A session.
The first briefing was by Navy Capt. Vasilios Stamatopoulos, who presented the Hellenic National Defence College.
BrigGen Georgios Fasoulas then spoke about Greek defence policy, underlining the importance of cooperation with partners to ensure security in the Mediterranean region.
The third speaker was Cdr Christianis Georgios, Head of the Integrated Surveillance Bureau at the Hellenic Coastguard HQ, who examined the challenges related to mass migration and immigration.
Dr Andrea Zervas, from the Directorate of Macroeconomic Policy and Forecasts in the Hellenic Ministry of Finance, analysed the current financial and economic situation in the aftermath of the recent financial crisis.
The last presentation was by the spokesperson of the Ministry of Foreign Affairs, Mr Alexandros Yennimatas, who focused on the strategic imperatives related to Greece's geographic position.
In the evening, NRCC-20 Course Members and NDC staff were received at the Hellenic Armed Forces Officers' Club.
The NDC delegation could not have travelled to Athens without visiting the Acropolis and its dedicated museum. On Friday, they were able to spend a short time there with expert guides, who explained the Athenians' role in the birth of democracy and the history of the different buildings on this famous site.
In the evening the NDC delegation travelled back to Rome.