SC 133 Transatlantic Link Field Study - New York, United Nations
08 Oct. 2018
|
Last updated: 08 Oct. 2018 15:24
On 4 October, Senior Course 133 marked its arrival in the United States of America with a visit to the One World Trade Center Tower, built to commemorate the tragic events of 9/11. Members of US Customs and Border Protection briefed the delegation on the Tower and its history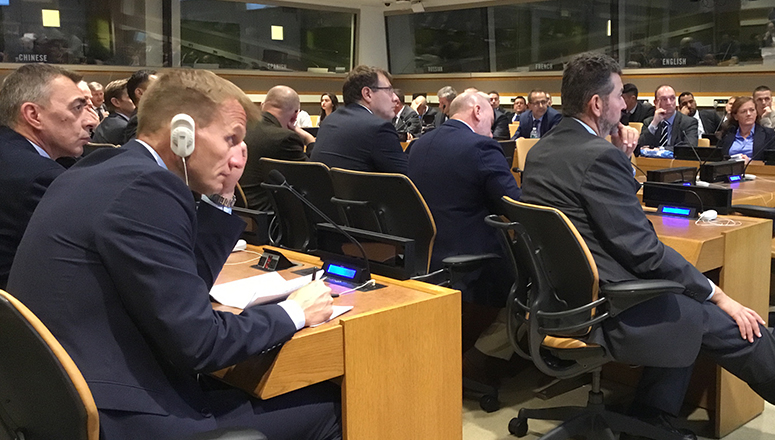 The next morning, SC 133 visited the United Nations (UN) and received a number of briefings on UN peacekeeping operations (PKOs). BGEN El Hadji Babacar Faye (SEN A), Chief of Staff, Office of Military Affairs, addressed the topic from a military point of view, speaking about the 14 ongoing UN PKOs and their current evolution. He also explained the overall C2 structure and its interaction with the political level. In addition, the talk covered the challenging context within which PKOs are run, with increasing exposure to asymmetric threats. Against this background, major challenges include training, deployment issues, lack of national consent, and frequent caveats from participating nations.
UN-NATO staff-level coordination, involving SHAPE, the IMS and the NATO Counter-IED Centre of Excellence (CIED COE) in Madrid, was highlighted.
The second speaker was Mr Jean-Pierre Lacroix (FRA), Under-Secretary-General for PKOs, who looked at PKO-related issues from a civilian/political point of view. Various case studies were discussed to highlight trends and specificities. One example was the UN operation in the Central African Republic, which was used to illustrate the political perspective (political legitimacy being one of the basic assumptions for UN operations) as well as the requirements in terms of military capabilities and budgeting, while also underlining the need for coordination with other actors such as the EU and non-governmental organizations.
Lessons learned in relation to past shortcomings of UN PKOs were frankly discussed, highlighting the still relevant question of integration between the operational and political levels.
Several examples of NATO-UN interaction were mentioned and discussed: the Joint Declaration on UN-NATO Secretariat Cooperation, annual UN-NATO staff talks (soon to be held in New York), operational cooperation (e.g. KFOR, CIED COE), NATO SG's pledge to support UN peacekeeping at the 2016 Vancouver Leaders' Summit, and NATO support for the 2018 Declaration of Shared Commitments on UN Peacekeeping Operations.
The morning's briefings and discussion thus offered Course Members valuable input about how the UN works and its perspective on NATO. The visit was very much appreciated.
In the afternoon, the Senior Course moved to the 9/11 memorial and were briefed on its history and significance.