The European Security Perspectives Field Study takes off.
06 Nov. 2018
|
Last updated: 06 Nov. 2018 13:58
For its second Field Study trip abroad Senior Course (SC) 133 officially started with a 'visit' to Italy, hearing briefings at its own NATO Defense College.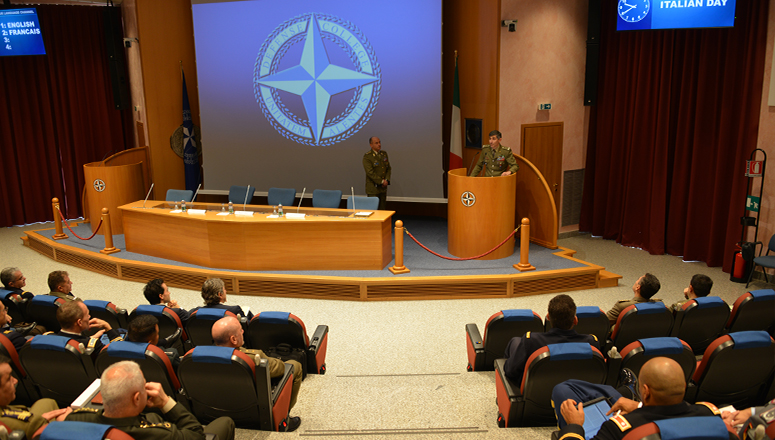 Course Members and accompanying staff welcomed the Italian authorities led by Major General Lorenzo D'ADDARIO, Deputy Head of the Plans & Policy Division at the Defence General Staff, acting on behalf of the Italian CHOD. In his presentation, he described the current security situation in Europe and spoke about the Italian white paper on security policy and the future of the Italian Armed Forces. He was followed by Dr Ezio GAETANO of the Italian Ministry of the Interior, who gave an overview of Italian Security Policy. He identified changes in Italian policy and emphasized that security is not only the duty of the state but, increasingly, a joint task by state, industry, the scientific community and society at large. He also spoke about the changes in NATO from a policy perspective and mentioned several initiatives resulting from the last summit. He also explained the importance for Italy of NATO looking towards the South.
The final lecture was provided by Counsellor Francesco FEDELE of the Italian Ministry of Foreign Affairs and International Cooperation, who highlighted the importance of all Italian state structures in addressing serious issues like terrorism. The three briefings were followed by a Q&A session with the panel.
After lunch, SC 133 received an additional briefing provided by MGEN Roberto BOI, (Italian Joint HQ) who listed all the UN, NATO and EU missions which Italy is contributing to, covering the full threat spectrum (for example terrorism, piracy, migration, but also the Italian contribution to NATO's Enhanced Forward Presence), thereby illustrating the clear connection between policy and operations.