NATO REGIONAL COOPERATION COURSE (NRCC-20) GRADUATION CEREMONY
09 Nov. 2018
|
Last updated: 09 Nov. 2018 20:41
On 9 November 2018, the NATO Defense College celebrated the graduation of the 20th NATO Regional Cooperation Course (NRCC-20). The NRCC is the Alliance's major educational Outreach activity with partner countries in the Mediterranean Dialogue (MD), the Istanbul Cooperation Initiative (ICI) and the broader Middle East. NRCC-20 was attended by 36 participants (24 military, 12 civilians), from15 different countries.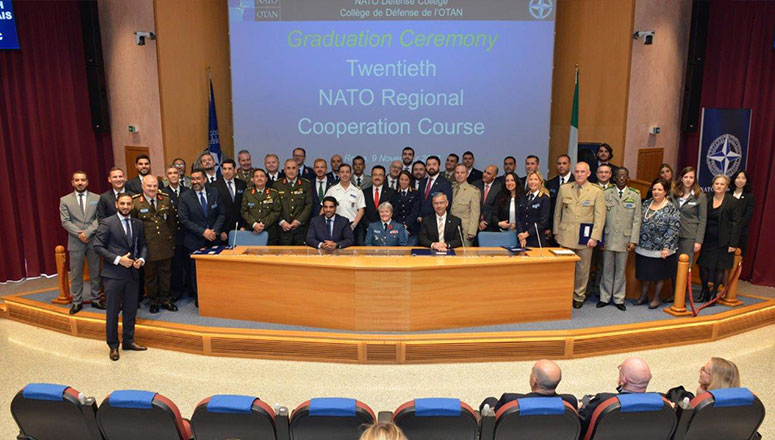 NDC Commandant LtGen Chris Whitecross opened the ceremony in the Maynard-Thorn Auditorium, underscoring the importance of this 10-week course with a view to increasingly close cooperation and friendship with valued partners. She reminded the audience of highlights which have made NRCC-20 so memorable for Course Members – from the high-level lectures and seminars alongside the Senior Course,to the valuable briefings received in Brussels, Athens and Naples during an intensive Field Studies programme. LtGen Whitecross also emphasized the professional and personal fulfilment that Course Members will enjoy by continuing to cultivate the working relations and friendships established during the past 10 weeks. She then introduced guest of honour Mr Fawaz AlOthman, Manager of the NATO-ICI Regional Centre in Kuwait. Himself an NRCC Ancien (NRCC-8), Mr AlOthman offered an impressive overview of how the recently instituted academic exchanges between the NATO-ICI Regional Centre and the NDC will be moving forward in the coming years.
The NRCC-20 Course President, Minister Plenipotentiary Mr Mohamed Safwat (EGY), thanked the NDC Commandant, the Faculty Advisers and the entire NDC staff for everything they have done to ensure so fulfilling an experience for Course Members. Mr AlOthman, LtGen Whitecross and NDC Dean BGen (ret) František Mičánek (CZE) then presided over the conferment of Course diplomas, with Course Members honouring their national flags as they came forward to receive the congratulations of the College leadership.