Modular Short Course (MSC 133/3) on: "NATO 360 degrees"
24 Nov. 2018
|
Last updated: 24 Nov. 2018 13:07
The NATO Defense College hosted Modular Short Course 133/3 entitled "NATO: 360 degrees", from 19 to 23 November 2018. Run in conjunction with Senior Course 133, this edition of the MSC brought together 19 participants from 12 different countries.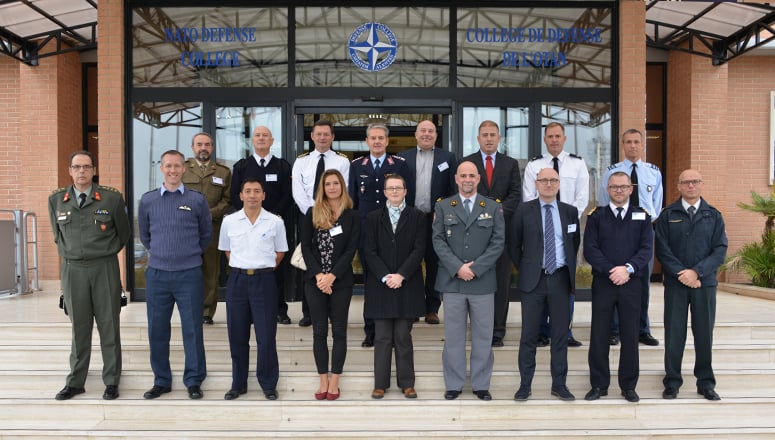 The aim of the course is to analyse the role and character of NATO, including its organization, policies and activities, to consider the contribution of the Alliance to security and the adaptations necessary to remain relevant to the changing security environment and the demands of current operations.
On Monday morning, participants were welcomed in the Maynard-Thorn Auditorium by NDC Dean Brigadier General (ret.) František Mičánek, who introduced the day's lectures on "The Northern Region, including the Arctic". The speaker was Mr Efjestad (NOR).
On Tuesday 20 November, the Russia Seminar included lectures in the Main Auditorium with two different panels: the first represented by Dr Suslov (RUS), Dr Schwalb (DEU) and BGen Connolly (GBR), while the second was composed of Mr Giles (GBR)and Dr Bukkvoll (NOR).
Over the next two days, the topics were: "The Black Sea Region", covered by Dr Mankoff (USA) and Mr Huseinov (AZE) on Thursday; and "The Western Balkans", with lectures by Mr Knaus (AUT) and Dr Koppa (GRC) on Friday.