The Future of Warfare and Autonomous Systems: high-level conference hosted at NATO Defense College
12 Dec. 2018
|
Last updated: 12 Dec. 2018 09:17
Three forces are opening up the so-called "Second Machine Age": the accelerating power of processors, dramatic improvements in software capabilities, as well as exponential growth in the quantity of digital data. As the Atlantic Alliance moves into its 7th decade, this technological transformation is likely to raise new challenges, not only in our lives and societies, but also for our security. Although it seems too early to gain any accurate insight into both the effects and direction of these future challenges, the Seminar, which took place on Monday 10 December, brought together world-leading experts to tackle different aspects of this major transformation.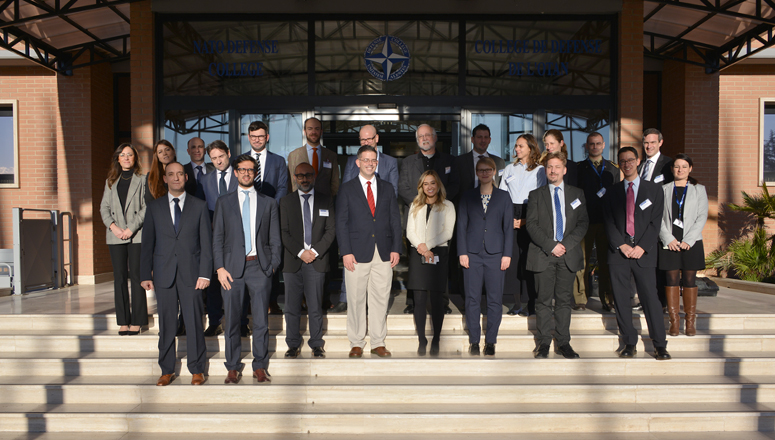 Organized by the NATO Defense College Research Division, the Conference provided an excellent opportunity for experts to discuss and present their research to colleagues from the NDC, the Georgia Institute of Technology, NATO HQ, academia, a number of NATO agencies, member states, as well as industry and think tank representatives.
More than twenty five high-level speakers and guests were welcomed by the Director of the NDC's Research Division, Dr Thierry Tardy, who introduced the subject of Autonomous Systems in War. The keynote speech was delivered by Dr Ronald Arkin from the Georgia Institute of Technology. The following panels were dedicated to detailed discussion on salient questions regarding sensitive topics for NATO, such as military operations, capabilities development, the use of autonomous systems and their diplomatic, strategic and ethical implications.
Throughout the day, panelists delivered cutting-edge contributions on issues of crucial concern, such as human beings' inherent biases and flaws when dealing with machines, and whether and how recruitment, training and tactics should be adapted. There was ample discussion on the legal and ethical questions connected to the development and use of autonomous systems, as well as on the evolution of technology and its immediate repercussions on warfare and military operations.
These critical matters will inevitably impact the Alliance and its Partners around the world, so the hosting of the conference by the NDC represented a timely and welcome opportunity for dialogue.