Senior Course 133 Study Project presentations
28 Jan. 2019
|
Last updated: 28 Jan. 2019 15:14
On 24 and 25 January 2019, Senior Course 133's Study Project (SP) presentations took place at the NATO Defense College. During these two days, the seven SC 133 Committees spoke about NATO related-issues such as Counter-Terrorism, Disruptive Technologies and NATO Crisis Management Operations.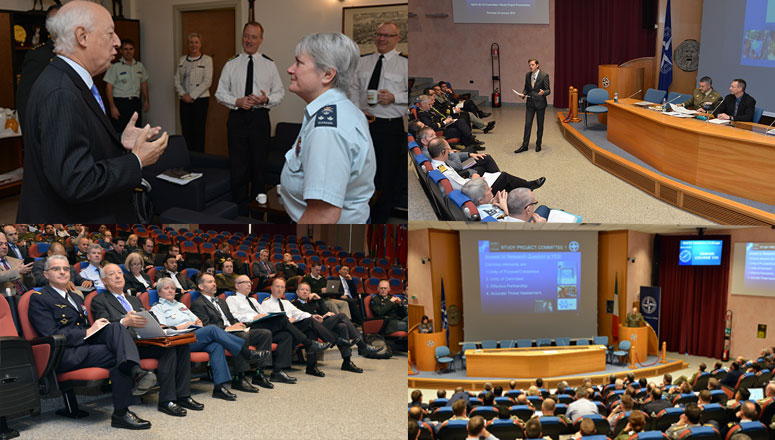 The Study Project is a major exercise in critical analysis and consensus-building, that affords an excellent consolidation of the Senior Course syllabus.
The importance of the occasion was highlighted by the participation of H.E. Ambassador Alessandro Minuto-Rizzo, President of the NATO Defense College Foundation; Vice Admiral Darren Hawco, Canada's Military Representative to NATO; and Vice Admiral Paul M Bennett, CB OBE, Chief of Staff of Allied Command Transformation. All three guests followed the Study Project presentations with keen interest and gave detailed feedback to Course Members on their efforts.
The collective assessment, expressed by the three distinguished guests at the end of the second day, was that SC 133 had done full justice to their capstone exercise with "seven stimulating works, characterized by the clarity, richness and significance of the different Committees' perspectives [and underlining the need] always to keep in mind the role of NATO and its nations in an ever more rapidly changing environment".
The closing remarks by Col Manuel Rosa (PRT A), Head of the NDC's Academic Programmes Branch, drew attention to the importance of Study Projects in relation to the skills required for working in a multinational domain.