Graduation Ceremony of Senior Course 133
04 Feb. 2019
|
Last updated: 25 Mar. 2020 09:43
On 1st February 2019, the NATO Defense College celebrated the graduation of Senior Course 133. The event was attended by Ambassadors, Defence Attachés, SC133 family members and NDC staff, with guest of honour Chief of Italian Defence Staff, GEN Enzo Vecciarelli.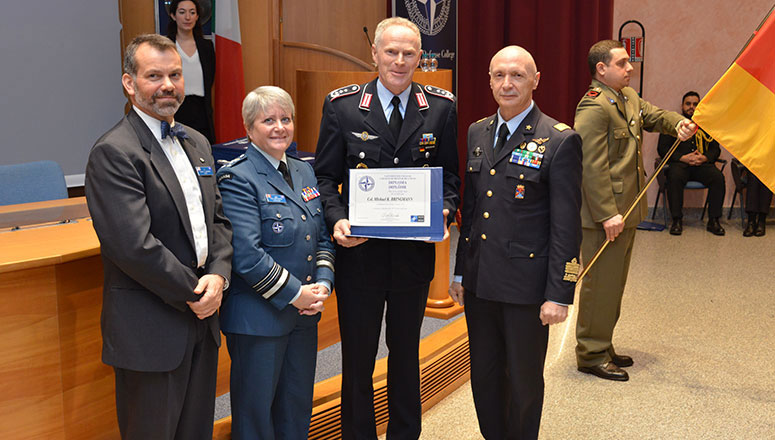 NDC Commandant, LGEN Chris Whitecross, welcomed the distinguished audience, warmly congratulating all Course Members on having successfully completed five months of intensive and demanding studies, together with a Field Studies programme, during which they visited the capital cities of a number of member and partner countries of the Alliance.
Commenting on the composition of the Course which brought together 66 high-ranking officers and officials from 32 NATO and partner nations, the Commandant stated: "I have found SC 133 to be a very cohesive group and truly enjoyed my interactions with you all. Over the last 5 months, I have had the honor of watching you develop into a team, of seeing you learn the art compromise. This personal growth is what the Senior Course is all about." The Commandant then concluded: "I am confident that each of you has grown from this experience, and will bring back to your nations or next international posts, additional competences and skills that will better equip you to manage diversity in a multinational environment, with a better cultural awareness and an enhanced ability to communicate and to negotiate."
In his address, Chief of Italian Defence Staff GEN Vecciarelli highlighted not only the academic and educational qualities of SC 133, but above all and citing his own personal experience, the importance of the human relationships developed at the NATO Defense College. Maintaining these in the respect of the Alliance's core values and principles, is paramount to achieving the well-known consensus building process.
As SC 133 Course Members filed through the Maynard-Thorn Auditorium for the last time, saluting their respective national flags and Flag Officers, they were awarded their graduation diplomas by LGEN Whitecross, GEN Vecciarelli and NDC Dean Dr Stephen J. Mariano. Henceforth, they join the ranks of the NDC's 7,000-strong Anciens' community. This year, the Eisenhower Prize for the best Individual Paper was awarded to Dr Peter Braun (CHE C).
The Senior Course is the NDC's main academic activity. It takes place twice a year and encompasses a rich and diverse programme. The Flagship course brings together Course Members from diverse cultural, geographical and professional backgrounds. Over the years the Course has also welcomed participants from many different partner countries, enriching the experience for all involved.