Early-Career Nuclear Strategists Workshop (ECNSW):
Applications/Call for Papers
08 Mar. 2019
|
Last updated: 20 Mar. 2019 11:07
The NATO Defense College (NDC) in cooperation with the Nuclear Policy Directorate of the Defence Policy and Planning Division (DPP) at NATO HQ is pleased to open a call for papers on nuclear deterrence.

Authors of the selected papers will be invited to participate to the first edition of its Early-Career Nuclear Strategists Workshop (ECNSW) to take place from 1st to 3rd July 2019 at the NDC in Rome (ITA).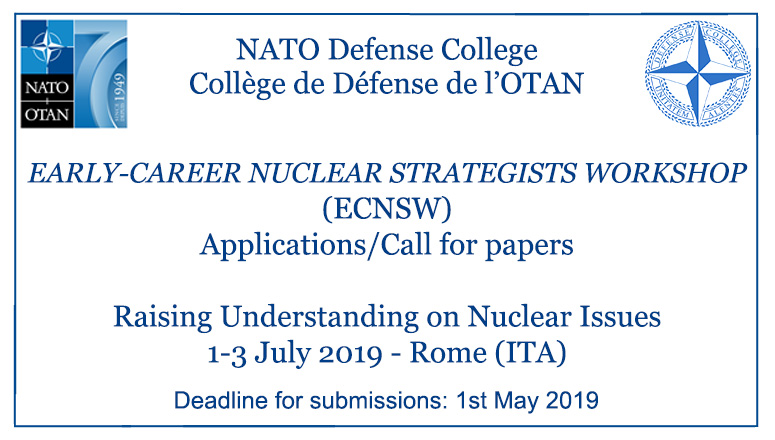 Background
The Russian annexation of Crimea and the ongoing conflict in Eastern Ukraine, as well as Russian President Putin's reliance on veiled, or more overt, nuclear sabre rattling, have brought nuclear deterrence back into the strategic debate for both scholars and practitioners. Nuclear deterrence requires human capital with particular competencies, understanding and skills. However, the pool of human capital needs to be revitalized as with the end of the Cold War, and the following attention to out-of-area so-called asymmetric threats (such as terrorism and insurgency), questions related to deterrence, in general, and nuclear deterrence in particular, have been to some extent neglected.
Goals
The workshop aims at enhancing and disseminating such competencies, understanding and skills on nuclear deterrence, in order to forge a new generation of nuclear strategists. The workshop has three main goals:
Advance awareness and expertise on nuclear issues and deterrence within the academic and policy-making world.

Build a community of young experts on nuclear deterrence issues.

Build bridges between the academic and policy world and create a networked community.
Participants and Eligibility
The NATO Defense College is seeking analytically strong, intellectually curious, energetic scholars and practitioners interested in furthering their understanding of in-depth questions related to nuclear issues.
The workshop will bring together approximately 20 early-career scholars from NATO countries, as well as 10 to 15 officials from both NATO and its member states. A select group of senior scholars and officials will provide a number of top-down lectures and contribute to facilitating discussions.
Applicants should be under the age of 40 by 31st December 2019, hold a PhD in any discipline (for scholars) or have at least 5 years of work experience in government or international organizations (for officials).
Format
The Workshop will be split into two parts:
A traditional seminar with panel discussions, where selected papers will be presented, with policy-makers and senior scholars acting as chairs or discussants (approximately 1.5 day).

A simulation exercise involving the nuclear dimension (approximately 1 day).
Application process
Scholars:
Early-career scholars should send an email by 1st May 2019 to ecnsw2019@ndc.nato.int with:
A 2,000-word long paper.

A one-page CV showing their academic and professional experience, publications and other relevant activities.

Copy of their passport.
NDC will cover transportation and accommodation expenses for all scholars.
The paper should deal with one of three issues:
Deterrence and the evolving geopolitical and technological environment.

European security and nuclear deterrence.

Nuclear deterrence and strategic stability.
Priority will be given to applicants from NATO countries, but the selection committee reserves the right to accept applicants from NATO partners or other countries.
NATO and government officials:
Early-career officials from both NATO and its member states will be funded by their respective institutions. They should send a one-page CV along with a letter of support from their division supervisor to ecnsw2019@ndc.nato.int.
Academic Coordinator: Dr Andrea Gilli, NATO Defense College;
Programme Manager: Mr Eugenio A. Mengarini, NATO Defense College, e.mengarini@ndc.nato.int