New RD Publication: "NATO@70": still adapting after all these years
04 Apr. 2019
|
Last updated: 04 Apr. 2019 10:24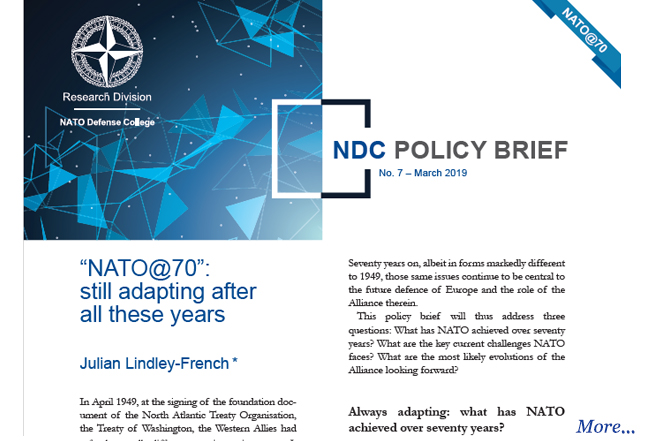 In April 1949, at the signing of the foundation document of the North Atlantic Treaty Organisation, the Treaty of Washington, the Western Allies had twelve active divisions. They believed, erroneously as it turned out, that Stalin's Red Army had 175 divisions on the other side of the River Elbe which marked the then inner-German border. At the time the West consoled itself with the monopoly that the United States had on atomic weaponry. Such complacency ended on 29 August 1949 with a nuclear shock when the Soviet Union tested its first atomic device. The new NATO was also tied inextricably to Europe's then recent past. Soon after the Treaty of Washington was signed the French newspaper Le Monde suggested that the creation of NATO represent a big step down the road to German rearmament: "The rearmament of Germany is present in the Atlantic Pact as the seed in the egg".1
April 1949 thus encapsulated both the ambition and the tensions that were to mark the three strands of post-World War Two European security and defence: transatlantic relations, the German Question and the road to European Union and how to both engage Russia and defend against it. Seventy years on, albeit in forms markedly different to 1949, those same issues continue to be central to the future defence of Europe and the role of the Alliance therein.
This policy brief will thus address three questions: What has NATO achieved over seventy years? What are the key current challenges NATO faces? What are the most likely evolutions of the Alliance looking forward?
1(back)J. Lindley-French, A chronology of European security and defence 1945-2007, Oxford, Oxford University Press, 2008.
Download the publication to keep reading.