Graduation of NRCC-21
18 Apr. 2019
|
Last updated: 18 Apr. 2019 15:41
On 18 April 2019, the NATO Defense College (NDC) celebrated the graduation of the 21st NATO Regional Cooperation Course (NRCC-21). The ceremony was attended by Ambassadors, Defence Attachés, NRCC-21 family members and NDC staff. The guest of honour was Brigadier General Alfonso García-Vaquero Pradal, Special Adviser on Defence Diplomacy to the Secretary General for Policy at the Spanish Ministry of Defence.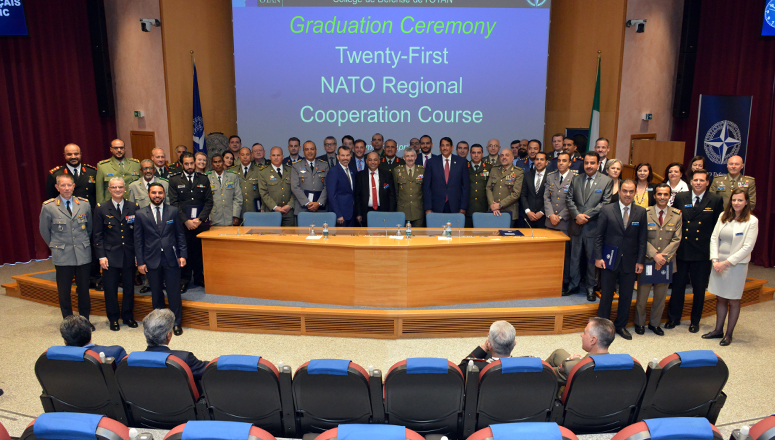 Guests were warmly welcomed by NDC Dean Dr Stephen J. Mariano, who congratulated all Course Members on having successfully completed an intensive and demanding course, together with a Field Studies programme that included NATO HQ, the European Commission and the NATO Strategic Direction South Hub at JFC Naples.
Before Course Members received their graduation diplomas and the congratulations of the NDC leadership, Dr Mariano delivered an introductory speech, highlighting the importance of this unique Course and its value in promoting dialogue amongst participants and improving common understanding. The NDC Dean underlined that security is very much a cooperative effort, rather than a question of unilateral action, and stressed the importance of partnership frameworks such as the Partnership for Peace, the Mediterranean Dialogue and the Istanbul Cooperation Initiative.
NRCC-21 Course Members and guests were then addressed by Brigadier General García-Vaquero Pradal, who spoke about "Spanish Defense Policy in North of Africa and the Sahel". Following the graduation address, NRCC-21 Course Members received their Course diplomas from BGEN García-Vaquero Pradal and Dr Mariano.
NRCC-21 brought together 36 participants from 19 NATO, Mediterranean Dialogue, Istanbul Cooperation Initiative, PfP as well as Global Partner countries. Throughout their time at the NDC, Course Members established a stimulating environment for discussion with a view to enhancing future international cooperation and exploring possible solutions to current issues.
The first Course (NRCC-1) was held in 2009, with the objective of enhancing dialogue, mutual understanding and cooperation between NATO and its Partners. The NRCC is a valuable means of informing military and civilian personnel from MD, ICI and NATO countries about current and future security challenges affecting the MENA region.