SC 134 Transatlantic Link Field Study – Allied Command Transformation
20 May. 2019
|
Last updated: 20 May. 2019 09:58
On Thursday 16 May, SC 134 visited ALLIED COMMAND TRANSFORMATION in Norfolk where they were received by ACT DEPUTY COMMANDER Adm. Manfred Nielsen. In his welcome speech he explained how ACT has been identifying future threats through a strategic foresight analysis process. He also emphasized the impact of emerging and disruptive technologies on NATO's capability developments.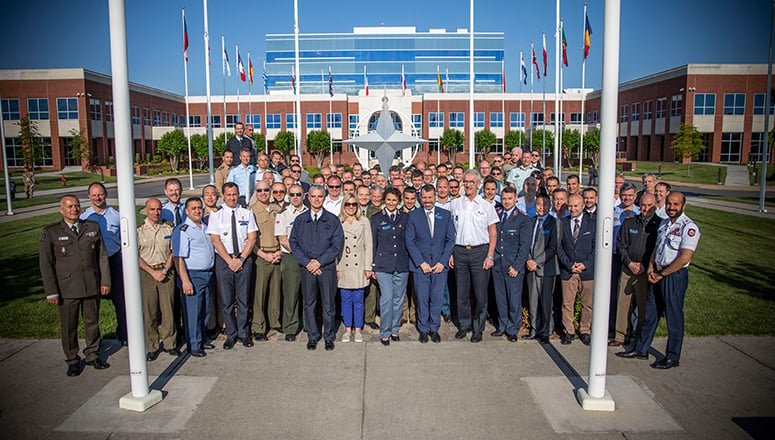 He was followed by Col Hoppenreijs, the Warfare Development Assistant Chief of Staff, who provided a briefing on warfare development in which he explained how ACT and ACO cooperate in a long term military transformation process, the purpose of which is to increase interoperability - the ability to act together coherently, effectively and efficiently - in the 29 Allied nations.
The next briefing on the Capability Development Process was provided by Mr Olivier Leichtman DCOS CAPDEV RM, who explained the NATO Command structure adaptation and the new Common Funding Capability Delivery Governance Model, whose purpose is to speed up the delivery of capabilities required by NATO forces.
A new briefing on Disruptive Technologies was provided by a representative from the Innovation Office who explained the meaning of the concept; why fast-moving technology is an essential enabler of military superiority; and the risk facing NATO that peer competitors and non-state actors may challenge its military superiority. He indicated that the NDC should foster a better understanding of the consequences of emerging technologies on NATO's war fighting and warfare development.
The next presentation was provided by Capt. Pete Hagge Acting Chief of Staff ALLIED JOINT FORCE COMMAND Norfolk, who explained how this new Command is being set up and the problems encountered. He stressed that JFC Norfolk is a real Joint Command, though still maritime heavy, whose main mission is to provide strategic sea lines of communications between both sides of the Atlantic in order to secure the free movement of reinforcements to Europe. He stressed the importance of the political message sent by NATO in the setting up of this new Command.
After a Coffee Break, SC 134 attended a very open and productive interactive panel discussion with available FOGOs, that included a lively Q&A session. The participants were:
- Admiral Manfred Nielsen, Deputy SACT.
- Vice Admiral Paul Bennet, Chief of Staff ACT.
- Major General Athanasios Tsouganatos, ACOS Joint Force Development,
- Rear Admiral Rene Tas, ACOS Capabilities.