New RD Publication: Deterring hybrid threats: the need for a more rational debate
09 Jul. 2019
|
Last updated: 09 Jul. 2019 16:07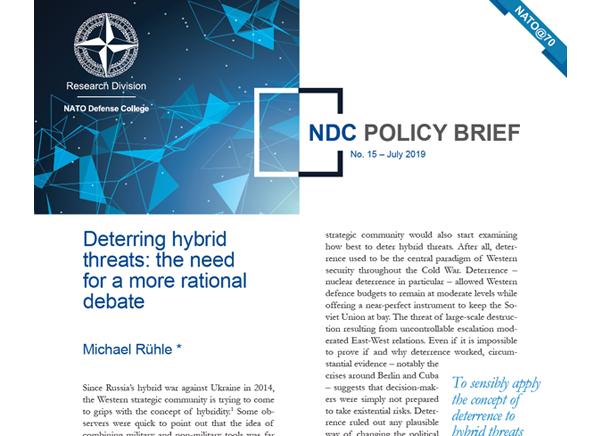 Since Russia's hybrid war against Ukraine in 2014, the Western strategic community is trying to come to grips with the concept of hybridity.1 Some observers were quick to point out that the idea of combining military and non-military tools was far from new, and they warned against exaggerating hybrid warfare.2 However, Russia's apparently seamless and effective blending of political, diplomatic, economic, electronic and military tools in order to annex Crimea and support separatists in the Donbas seemed to herald a new era of hybrid warfare: a revisionist power was using both old and new means to undermine and, eventually, tear down a post-Cold War order it considered unfair and unfavourable.
It was only a matter of time until the Western strategic community would also start examining how best to deter hybrid threats. After all, deterrence used to be the central paradigm of Western security throughout the Cold War. Deterrence – nuclear deterrence in particular – allowed Western defence budgets to remain at moderate levels while offering a near-perfect instrument to keep the Soviet Union at bay. The threat of large-scale destruction resulting from uncontrollable escalation moderated East-West relations. Even if it is impossible to prove if and why deterrence worked, circumstantial evidence – notably the crises around Berlin and Cuba – suggests that decision-makers were simply not prepared to take existential risks. Deterrence ruled out any plausible way of changing the political status quo in Europe by force.
Download the publication to keep reading.
*(back) Head, Hybrid Challenges and Energy Security Section, Emerging Security Challenges Division, NATO. The author expresses his personal views.