New RD Publication: Russia and China: "axis of convenience" or "stable strategic partnership"?
29 Jul. 2019
|
Last updated: 29 Jul. 2019 10:15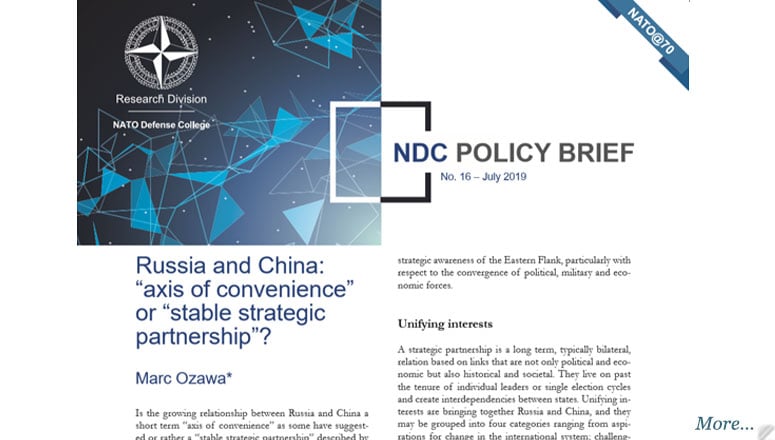 Is the growing relationship between Russia and China a short term "axis of convenience" as some have suggested or rather a "stable strategic partnership" described by China's former vice Foreign Minister, Fu Ying". 1 Based on current events, it is still too early to tell how substantive this relationship will develop. On the one hand, there are impressive achievements in cooperation with clear signals from Moscow and Beijing of their future aspirations, which are serious and long-term. On the other hand, there are indications that things could fall apart quickly considering a contentious history that is still in living memory, lingering distrust and socio-cultural obstacles. Although both countries have finally agreed on a mutually recognized border, growing Chinese influence and the sheer disparity of populations in the border region raise concerns that even Russian leadership privately acknowledge. For the time being, however, the forces bringing both countries together are enough to overcome these obstacles. Although the current direction of bilateral relations is towards cooperation, it is still a fragile sort. Because cooperation requires the participation of Russian and Chinese leadership, it could recede without their active promotion. In the long term much will depend on how the leadership navigates through the phases of cooperation, both military and economic. For NATO, this underscores the need to incorporate Far East developments into its strategic awareness of the Eastern Flank, particularly with respect to the convergence of political, military and economic forces.
*(back) Senior Researcher at the NATO Defense College.
1(back) M. Li and A. Poh, "The indispensable partner: Russia in China's Grand Strategy", in Sino-Russian Relations in the 21st Century, London, Palgrave, 2019, p.21.
Download the publication to keep reading.

More Research Division Publications...