New RD Publication: Fighting "Men in Jeans" in the grey zone between peace and war
29 Aug. 2019
|
Last updated: 29 Aug. 2019 10:36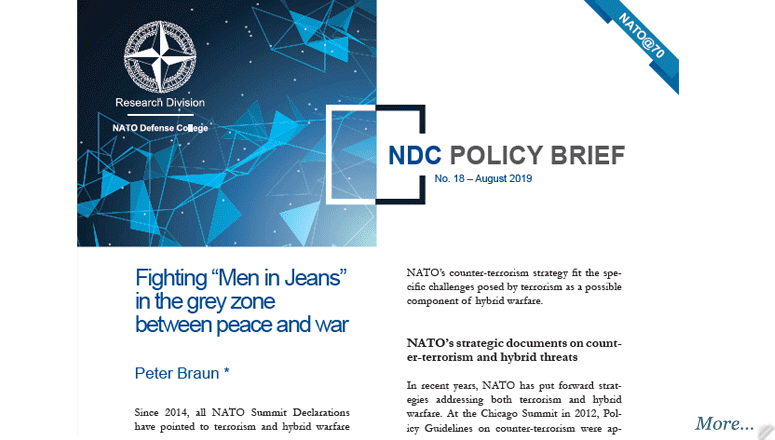 Since 2014, all NATO Summit Declarations have pointed to terrorism and hybrid warfare as the main and most immediate threats to the security of the North Atlantic Alliance and its members 1. Surprisingly, the two threats are largely addressed separately – the fact that terrorism happens to be an important element of hybrid warfare is not mentioned at all. This paper seeks to examine whether NATO's current concepts of counter-terrorism (CT) are adequate for countering potential terrorist threats in a hybrid environment. To do so, the paper begins by examining how terrorism could be used in a hybrid scenario. Thereafter, the particular challenges that these threats pose to collective defence, according to Article 5 of the Washington Treaty, are addressed. Finally, this paper considers the extent to which key elements of NATO's counter-terrorism strategy fit the specific challenges posed by terrorism as a possible component of hybrid warfare.
*(back) Head of the Armed Forces Development Branch within the Swiss Armed Forces Staff. Dr Braun was a Course Member at the NDC's 133th Senior Course, from August 2018 to February 2019. This Policy Brief is a revised version of his end-of-course Individual Paper, which was awarded the NDC Eisenhower Prize for the best Individual Paper of the Course.
1(back) NATO, Brussels Summit Declaration Issued by the Heads of State and Government Participating in the Meeting of the North Atlantic Council in Brussels 11-12 July 2018, para. 10 and 21.
Download the publication to keep reading.