Inauguration Ceremony of Senior Course 135 (SC 135) and NATO Regional Cooperation Course 22 (NRCC 22) attended by Lieutenant General Hans-Werner Wiermann, Director General International Military Staff at NATO HQ
04 Sep. 2019
|
Last updated: 04 Sep. 2019 09:51
On 3 September 2019, the NATO Defense College celebrated the inauguration of its two flagship courses.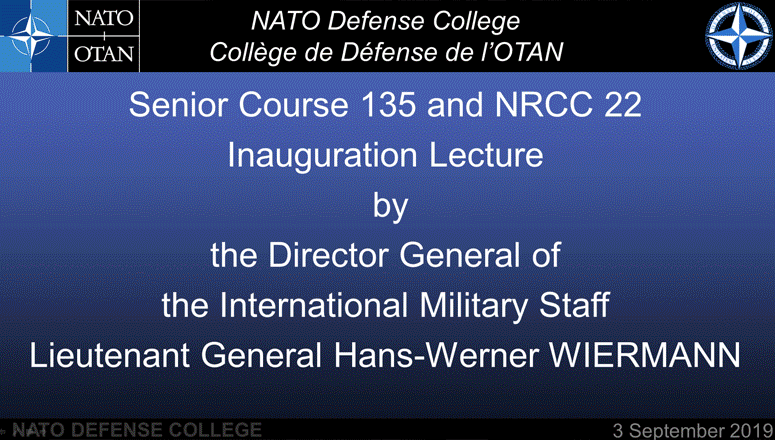 The Commandant of the NATO Defense College, Lieutenant General Chris Whitecross - welcomed distinguished guests, Course Members, Faculty and Staff in the Maynard- Thorn Auditorium, to celebrate the start of the new courses. Taking the floor for the introductory remarks, the Commandant highlighted the enduring relevance of the NATO Defense College for NATO and its Partners. As all educational institutions, however, it must strive to evolve in keeping with the ever-changing security environment. The College is here to serve the Alliance and its Partners, and to prepare future senior leaders for strategic thinking, critical analysis and consensus building. "Our role here at the College is to provide a forum where - as future NATO leaders - you can analyse and discuss the implications of world events and how to face the challenges that they relate to. The NDC will help you to develop informed opinions through high level lectures, visits to nations and the opportune access to senior leaders. I encourage you all to take full advantage of this opportunity."
Lieutenant General Wiermann spoke extensively about the past, present and future history of both the Alliance and Europe: "there will be no security in Europe, without a European integration, and no security for Europe without American engagement. EU and NATO are two sides of the same coin and the Alliance and its partners must strive collectively for its implementation". He continued: "Most of you are in charge to help us develop the world for NATO 3.0, not only as members but also as partners of NATO, seeking to improve deterrence, defence and the future of arms control".
In wishing Course Members a fruitful start, LGEN Wiermann said he was looking forward to meeting them at the International Military Staff at NATO HQ.
The 5½ month-long Senior Course sees the participation of 75 high-ranking military and civilian officials from 30 NATO member states and partners. The NATO Regional Cooperation Course will run alongside the Senior Course, with 33 military and civilian representatives from 17 countries from the Mediterranean Dialogue (MD), the Istanbul Cooperation Initiative (ICI), Global Partners and NATO.